Students use hugs to ease Sino-Japanese tensions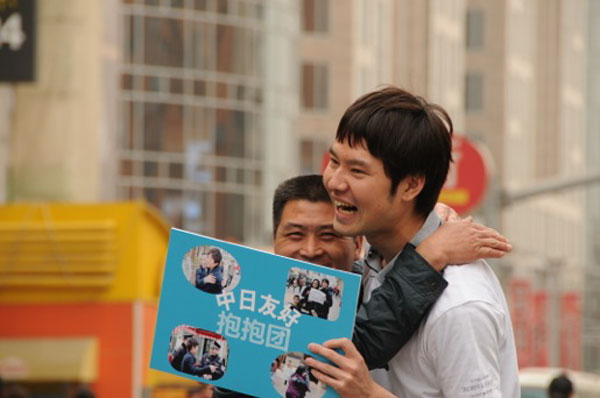 A Japanese student hugs a Chinese pedestrian on Wangfujing Street in Beijing on April 10, while holding a sign saying "Hug to promote friendship between China and Japan." Provided to China Daily
As small as a hug is, it may still warm up the tension between China and Japan, a belief that has motivated six Japanese students studying in Beijing to initiate a hugging activity.
Watanabe Kohei, a Japanese student studying international relations at Peking University, together with five Japanese classmates, took a walk on Wangfujing Street on April 10 and in Yuyuantan Park on April 13 and tried giving passing pedestrians a hug.
They held a big board that said, "Hug to promote friendship between China and Japan".
Watanabe and his peers feel that the Chinese were a bit shy in giving hugs, but were nice to them.
"Most pedestrians noticed our board and just stepped up to give us a hug," said Maruyama Kenta, a Japanese student studying at PKU who participated in the activity in Yuyuantan Park.
"During our one-hour walk in the park, we hugged about 200 Chinese people. Some hugged us and said 'Welcome to China' in English. Some said 'Good Luck' in Chinese."
After the successful hugging activity, the Japanese students are now working on a chorus event, in which 150 Chinese and Japanese university students in Beijing will be invited to participate. They plan to make a video of the hugging activity and the chorus and put it online in May.
Watanabe said he started to feel the tension in Sino-Japanese relations in early 2013, when he was studying law at Waseda University in Tokyo.
"There were some biased reports about China in Japan," he said. "I used to live in China for six years when I was little, so I understand that the media reports about China are not a hundred percent true. At least, I saw many good sides of China when I was living in Shanghai several years ago."
This is the second time that Watanabe and his friends have organized the "Walk for hugs" activity in China. He and Maruyama first carried it out in March 2013 in Shanghai, when they flew from Japan to Shanghai to do the hugging activity during spring vacation.
"I wanted to do something real and direct to ease the tensions between the two countries," he said. "In Japan, people would hug each other during festival gatherings to show their happiness. That was how I came up with the idea."
Watanabe admitted that he was apprehensive when they carried out the hugging activity for the first time in Shanghai.
"I was afraid that we might be beaten on the streets as we label ourselves as Japanese," he said. "But it did not happen. Instead, most people we met showed their support by hugging us and encouraging us."
"I used to think that middle-aged people or elderly people might have more negative opinions about Japan because they know more about history. Yet what surprised us in Shanghai was that elderly people showed great support to us," Watanabe said.
"A young man said dirty words to us about Japanese during the activity in Shanghai, and an elderly Chinese lady stopped him and told him to be nice to us."
Zhang Fan, a university student in Beijing who noticed the hugging activity on April 10 in Wangfujing Street, praised the students' courage.
"Most people talk about the need to ease the tensions but they do nothing," Zhang said.
"Hugs are simple. But they feel so real."
zhangyue@chinadaily.com.cn