High levels of benzene found in water supply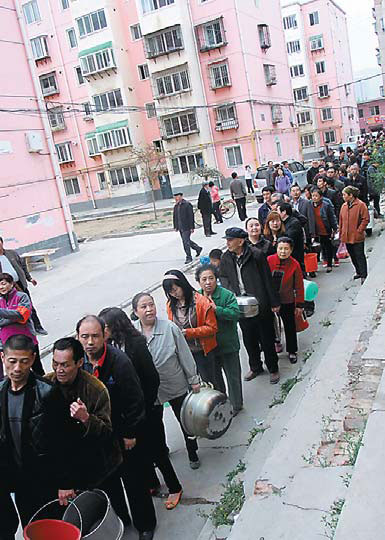 People living in Lanzhou, Gansu province, wait in long queues on Friday for firetruck engines to deliver water after authorities discovered excessive levels of benzene, a colorless carcinogen used to manufacture plastics, in the tap water. Pei Qiang / for China Daily
Excessive levels of benzene in tap water have affected more than 2.4 million people in downtown Lanzhou, Gansu province, provincial authorities said on Friday.
Tests at a water plant at 8:30 am on Friday showed that the tap water contained 160 micrograms of benzene per liter, far beyond the 10 micrograms per liter national limit, according to the city's environmental protection office.
The local government warned citizens not to drink tap water for the next 24 hours. Benzene is a colorless chemical used to manufacture plastics that is known to cause cancer.
Tests from Thursday evening to early Friday morning found between 118 and 200 micrograms per liter at the water plant, according to Veolia Water, a Sino-French joint venture that is the sole water supplier for urban Lanzhou.
Benzene levels at the plant fell to 78 micrograms per liter on Friday afternoon, according to a statement from the provincial government's information office.
Meanwhile, the tap water at some urban households was also found to contain as much as 78 micrograms of benzene per liter, the statement said.
Veolia began using activated carbon at 3 am on Friday to absorb organic matter and dilute the benzene.
An initial investigation found problems in a 3-kilometer-long channel that links the pre-processing plant and the plant that supplies water. Closure of the channel will cut the city's water supply by half, according to Lanzhou's water quality monitoring station.
Fire engines and tanker trucks will be used to carry water to affected areas.
The local government is investigating the source of the contamination. Sources with Veolia told Xinhua that they believe the benzene was waste from manufacturing but refused to single out any particular enterprise.
They said there was no possibility that the Yellow River, the original source of the water, was the source of the pollutant. Gansu's publicity department reaffirmed on Friday afternoon that the river is not contaminated.
Lanzhou residents panicked upon hearing the news of the contamination, rushing to supermarkets or community grocery stores to stock up on bottled water.
At Hualian Supermarket, one of the largest in downtown Lanzhou, many trolleys or baskets loaded with bottled water were seen. Latecomers gathered in front of empty shelves, waiting for replenishment.
"I had no idea what benzene was, but my family are all scared. My husband called to ask me to buy as much bottled water as I can," a shopper told Xinhua.
The booking line for Lanzhou Huanghe Origin Food and Drinks, the biggest provider of water barrels in the city, was busy on Friday as mounting orders came.
The company normally sells 15,000 barrels of water a day. It is dipping into its 50,000-barrel reserve to meet the rising demand, said Yu Cunyuan, the company's general manager.
Chen Baohua, a professor with Lanzhou University's College of Chemistry and Chemical Engineering, warned local residents not to touch or drink the contaminated water as excessive inhalation of and contact with benzene would damage the human hematopoietic system, which is responsible for the production of blood.
The benzene pollution is the second incident involving tap water in Lanzhou in two months. On March 6, residents reported a strange odor when they turned on their faucets, which was later confirmed as a high concentration of ammonia but still within the national limits.