Fallen building's ex-tenants unhappy with compensation
Residents get lump sum, yearlong subsidy, but no cash for lost property
The remnants of a collapsed building that claimed one life and injured six people on Friday in Fenghua, Zhejiang province, were brought down on Monday, as residents expressed their dissatisfaction with the amount of compensation they have been offered by the local government.
According to a statement released by Fenghua officials, each of the 40 families that occupied the building will be paid 3,000 yuan ($484), and each family member will receive another 8,000 yuan.
Because the building was torn down and reconstruction will require time, each family will also receive a monthly subsidy of 20 yuan per square meter of their former apartment's floor space for one year.
Some residents, accompanied by firefighters, reclaimed some of their belongings before the structure came down. No compensation was offered for lost belongings.
Xu Tianchang, a building resident, said that is unacceptable.
"My whole family has been living in a hotel for five days. We eat in restaurants and buy clothes to change. I don't know whether the subsidy will be enough to cover all the expenses," he said.
Ding Liangen, 72, lived on the fourth floor for more than 10 years. The compensation did not cover his losses, he said.
"To ensure the safety of my grandson, my son has been renting elsewhere for months. This is a huge expense."
The son and his family had lived in the apartment with Ding, but as a crack in the wall grew larger, the son moved out to avoid the coming danger.
"My grandson is going to primary school this September. If it were not for educational considerations, we would have sold the house. Now the house is torn down, and we have no idea whether this will affect my grandson's enrollment," Ding said.
The residential area is associated with a first-class primary school in the city, he said. Only residents are permitted to enroll there.
According to Ding, the house had been worth 8,000 to 9,000 yuan per sq m.
Along with residents of the collapsed building, residents living in five surrounding buildings constructed at the same time were also evacuated. They received far less compensation.
Tong Aidi, 60, who lives in the building next door, went to live with her son's family. She said she received a payment of 2,100 yuan on Monday.
"I don't know what they are going to do with our buildings, but I would never dare to live there again. I think we deserve more compensation," she said.
Xu Mengting, a Fenghua publicity department official, said the government has started legal procedures to ensure that compensation is paid.
"The Fenghua government will make sure that every resident receives the deserved compensation, which will be paid by the major liable parties," he said.
By Tuesday, two people associated with the construction of the buildings had been taken into custody.
Some residents were concerned about reconstruction. Both Tong and Ding said reconstruction should take place at the original site.
yanyiqi@chinadaily.com.cn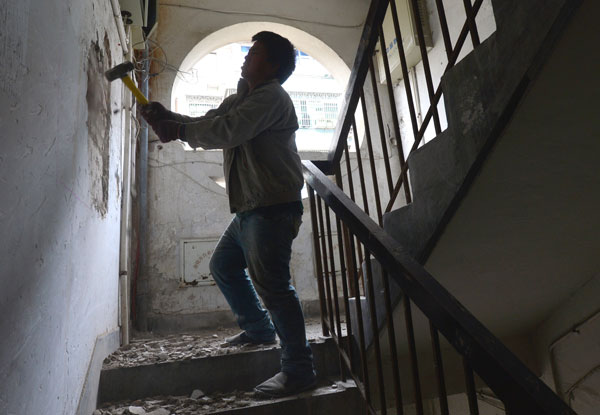 Demolition work begins on Monday on the remnants of a residential building that collapsed on Friday in Fenghua, Zhejiang province. Residents and local authorities have reached a compensation agreement. One woman died after being rescued from the rubble on Friday. Provided to China Daily