Murder leaves a heartfelt legacy
Relatives and friends of slain family raise funds to support poor communities that breed desperation and violence, Cang Wei and Song Wenwei report in Nanjing.
This story has a bloody and sad beginning.
In the early hours of April 1, 2000, four young men crept into a lakeside villa in Nanjing. At first they just intended to steal things. In the end, they killed the German family living there - Petra, Juergen, Sandra and Thorsten Pfrang.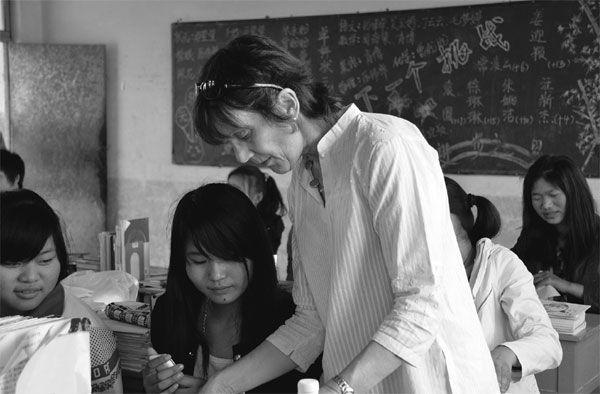 Members of the Pfrang Association spend time with students in northern Jiangsu province. Photos Provided to China Daily
The four men were caught at the scene. Media that attended the trial described them as frightened and looking panicked. Six weeks later, they were sentenced to death by a local court.
Juergen Pfrang, 51, was a manager working for Daimler AG, formerly known as DaimlerChrysler, in the neighboring city of Yangzhou. He and his family had settled in Nanjing in 1998.
Juergen was a tall man with an even temper. He liked sports and sometimes went cycling with his family.
Juergen drove more than 100 kilometers from Yangzhou to Nanjing on Wednesday and Friday to spend the night and the weekend with his wife and children, and then drove back to work on Thursday and Monday morning.
Petra Pfrang, 40, was an active community member and always dedicated to her family. Fifteen-year-old Sandra and 13-year-old Thorsten were both students of Nanjing International School.
The Pfrang family was always willing to help others, including a young couple that came from Africa to further their studies in Nanjing. Their life became hard after the wife gave premature birth to their baby girl.
When they heard about the murder, relatives and friends of the Pfrang family thought it was an April Fools' Day joke. In less than a week, they would see the four murderers, aged 18 to 21, in court, wearing countrified clothes, poorly educated and jobless.
All four men came from the then poverty-stricken Shuyang county in northern Jiangsu province. One had worked as a cook for a short time. Another one once cut keys for a living.
The four defendants confessed in court that after being found by the Pfrang family, they panicked when hearing an incomprehensible language - and then committed the crime.
At that time, some Chinese media reported that Petra's parents wrote to the local judge, asking him not to sentence the four young men to death. Julia Guesten, a friend of the Pfrang family, told media that Petra's parents had sent a lawyer to China, and that the German state department had asked them to sign the letter to the court. Although their request didn't change the verdict, the story touched many Chinese readers.
Guesten was also one of founders of the Pfrang Association, which was established in November 2000 to help poor students in northern Jiangsu province to receive education, so as to break the tragic cycle of poverty, lack of education and crime.
"It's the best way to remember the Pfrang family," says Kristel Snoey, president of the Pfrang Association, who came to China from the Netherlands last July with her husband and two daughters.
"The Pfrang Association has supported at least 800 students in the poor areas of Jiangsu and neighboring Anhui provinces since it was founded," says Snoey. "We support the students with tuition fees, accommodation fees and send them presents."
The association now has 16 members, most of whom are teachers at Nanjing International School. In the 14 years since the Pfrangs died, many people who knew them have left Nanjing, but new members join the association because of the same belief - that education can change people's lives.
Zhang Liwei, former deputy secretary-general of the Amity Foundation, says he was impressed when Guesten and a lawyer asked him to cooperate. The Pfrang Association needed a Chinese partner, because according to Chinese law it could not establish its own foundation and carry out fund-raising without a local partner.
"At that time, many Chinese people could not understand that the victims' friends wanted to help people of the murderers' hometown," Zhang says. "When I visited those poor areas in northern Jiangsu province, I was shocked by what I saw."
"I still remembered vividly that a man in Lianshui county of northern Jiangsu, who was too poor to find a girlfriend, had only a piece of wood as a bed in his home. Even some officials in the county had to have porridge for every meal due to a lack of food. They really needed other people to help them."
According to Snoey, every year the association holds events to remember the Pfrang family and to raise money for the children it supports.
"In May this year the Pfrang Gala will be held, and in September we'll have a big sports day," says Snoey. For the gala, guests will buy tickets and then be gifted with pink flowers - the emblem of the association that stands for the children of poor families, who can blossom if given support and care.
In December, students and teachers of Nanjing International School can pick cards from the giving tree, on which there is the name, gender and age of a student supported by the association. They will donate money for the association to prepare gifts for the children living in poor areas.
The students supported by the association will be given 3,000 yuan ($483) annually in senior high school, and each junior high student will receive 2,000 yuan. When the association was founded, every student was awarded about 200 yuan.
Since China's development over the past decade, living standards in northern Jiangsu province have improved. The association has extended its help to high school students in neighboring Anhui province.
"It's always good to give something to the community, to other people and to China," says Snoey.
"I often tell my two daughters, who are in grade six and eight, that some children in the world don't have the life you're having," she says. "Now they study harder, and become more caring for others."
Zhang, meanwhile, says that he hopes charity can inspire more Chinese people and influence the whole society, gradually becoming "a way of life" in China.
Contact the writers through cangwei@chinadaily.com.cn.