Microblog site Sina Weibo picks the Nasdaq for its IPO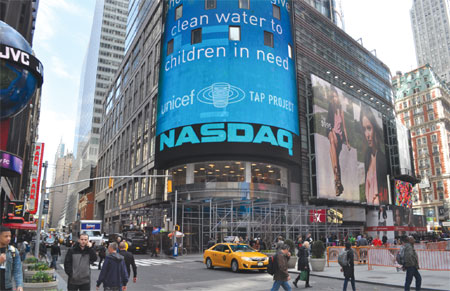 The Nasdaq Stock Market gained a victory at the expense of its long time rival, the New York Stock Exchange, when China's Sina Weibo said in a filing it would list its IPO on the younger bourse in Manhattan's Times Square. Michael Barris / China Daily
The decision by Chinese microblog site Sina Weibo to list its IPO on the Nasdaq Stock Market instead of the rival New York Stock Exchange is a big boost for the Nasdaq, coming after its reputation-staining Facebook IPO technical glitch, observers said.
"Everybody points to their accomplishments: Do business here, do business in this store. You don't have to go across the street," said John Fitzgibbon Jr, who runs IPOScoop.com, a New Jersey-based website that follows the initial public offering scene. "Now the store across the street looks like it's still open for business."
In its amended regulatory filing, Sina Weibo, owned by Shanghai-based Sina Corp and often described as a combination of Twitter and Facebook, said it would trade under the symbol "WB".
A spokesman for Nasdaq told China Daily that "as a company policy we don't comment on companies at this stage of the listing process."
Sina Weibo's IPO, which could raise as much as $500 million, according to a filing two weeks ago, is a big prize in Nasdaq's longstanding rivalry with the venerable NYSE, Fitzgibbon said.
"The latest move (indicates) people are very comfortable going with Nasdaq," he said. "I would guess the wounds and the stings and the hurts of Facebook have faded into the background at this point. "
Facebook's 2012 IPO was one of the biggest in technology, and the biggest in Internet history, with a peak market value of more than $104 billion. Nasdaq's reputation was damaged by first-day trading delays due to technical problems that prevented orders from going through and confused investors.
Since the Facebook IPO, which ended up raising $16 billion to become the third-largest initial offering in US history, Nasdaq's rival from Wall Street, the NYSE, has aggressively gone after tech IPOs, the group on which Midtown-based Nasdaq initially built its reputation. The NYSE won last year's big prize, with the IPO of online short-messaging service Twitter.
Sina Weibo said in the amended filing that an expected drop in revenue tied to "seasonal trends" will push it to a first-quarter net loss from a $3 million operating profit in the fourth quarter of 2013. Active daily users numbered 61.4 million at the end of December, up from 58.9 million in September. The company had 129 million monthly users in December, well below Twitter's monthly average of 241 million users.
The company's IPO filing last month came just two days before fellow Chinese Internet concern Alibaba Group Holding Ltd, the world's largest e-commerce company, said it would choose New York over Hong Kong for what would be the largest US IPO ever by a Chinese company. The deal would have a potential market value of around $140 billion and a proposed IPO value of $15 billion.
Despite the excitement Alibaba's IPO announcement initially created among investors, there is some concern that the Internet-offering market is getting too crowded, dampening potential demand, according to financial advisers.
Rene Nourse, managing director of Concert Wealth Management in San Jose, said the overall IPO market, with its recent heavy focus on e-commerce companies, has become "a bit frothy".
"I'd be cautious about buying with the potential of the whole group pulling back," Nourse said. "It might be a better buy later."
Alibaba, which is 24 percent owned by Internet portal company Yahoo Inc, has thrived as Chinese consumers flock to online marketplaces. The gross value of merchandise traded on Alibaba last year was $240 billion, more than double that of US rival Amazon.com's $100 billion, according to Forrester Research.
michaelbarris@chinadailyusa.com