Positioning South Africa right in China
Newly appointed Brand South Africa's China country manager Tebogo Lefifi is the personification of the Chinese dream.
When the Beijing UN Women's conference was all the rage in 1995, Lefifi was a commerce student at the University of Kwazulu-Natal. The conference made an impression on the young woman, blending as it did with the women's liberation aspects of the heady experimentation with broad freedoms in post-apartheid South Africa.
After a brief sojourn at South African companies, a Portuguese-learning stint in Brazil and a detour to London to work for Kryterion, a Canadian-US educational testing and certification firm, Lefifi moved to Beijing in the winter of 2008.
Looking back, her interest in China emanated from a mix of gut feelings and research.
She explains: "My role in London was to drive global educational certification for Kryterion. The US market, which was our principal market, was rapidly maturing and getting saturated. In our looking elsewhere, emerging Brazil, China and India offered 'low-hanging fruits'."
In the end, Lefifi and her seniors at Kryterion chose China but the idea was abandoned altogether.
However, Lefifi was bitten by the China bug, with the seemingly endless opportunities that the country's fast-paced economic developments offered.
Soon after she arrived in Beijing, Lefifi realized that she would have to be there either for three months or 15 years. She chose the latter.
"China is as huge as it is deep. You can't just be academic about it. You have to live here for an extended period of time to become a China subject matter specialist and to cultivate guanxi (relationships), whichever field you choose," she says.
Her entry strategy was a three-month self-sponsored Chinese-language course.
Lefifi was lucky that her former UK employer was the first client for the then nascent Africa@work, her startup advisory consultancy firm. Thus, she didn't have to worry over her keep.
In the meantime, however, she was seeing opportunitines for China-Africa work everywhere she looked.
Lefifi joined the South Africa-China Society from where she would scout for work. Ahead of the 2009 Forum on China Africa Cooperation conference in Sharm-el-Sheikh, Egypt, Lefifi signed up as the China representative of Stellenbosch University's Centre for Chinese, the pioneer think tank in the field on the African continent.
Her contact list expanded considerably and, with it, a deepening of knowledge of the agencies of China-Africa relations, from the China Council for Promotion of International Trade to the African division of the Chinese Academy of Social Sciences.
She also signed up for the China Export Import Bank scholar program, a requirement of which was attending Beijing's University of International Business and Economics for a business Chinese-language course.
Once she was on firm ground, Lefifi intensified her footprint in China-Africa dynamics in the voluntary sense of the word. In 2009 Lefifi and five other young Africans started the Young African Professionals and Students, a trailblazer that engaged in activities as diverse as job placement for recent African graduates to career counseling and mentoring, boasting a database of 3,000 people.
Noticing her enterprising spirit, the South African ambassador to China at the time seconded her to the South Africa-China Business Association, "to help align students' and educational interests in the FOCAC framework".
Her client portfolio grew to include the Rockefeller Foundation, the Kenya-based African Technology Foundation and the Sino Africa Centre of Excellence (associated with the Carter Center in the US).
Lefifi's China journey has cut both ways. With the African Leadership Network, she has been instrumental in placing Chinese university students with Equity Bank in Nairobi.
Lefifi says her inspiration comes from her parents - a mother engaged in commercial farming from whom she takes after in terms of risk-taking and a retired librarian father from whom her knowledge-seeking traits emanate.
In her new role as Brand South Africa's China boss, the function of building South Africa's corporate reputation will fall squarely on her shoulders.
"Our China office is new and my role is to set up the operation from scratch, of course with the support of my headquarters, the South African embassy in Beijing and Tourism SA, which also has a presence in China, among others," she says.
"China is the biggest trading partner for South Africa and South Africa is the fifth-largest trading partner for China. However trade is imbalanced in favor of China, and the role of our China office will be to create circumstances under which this can be corrected."
For China Daily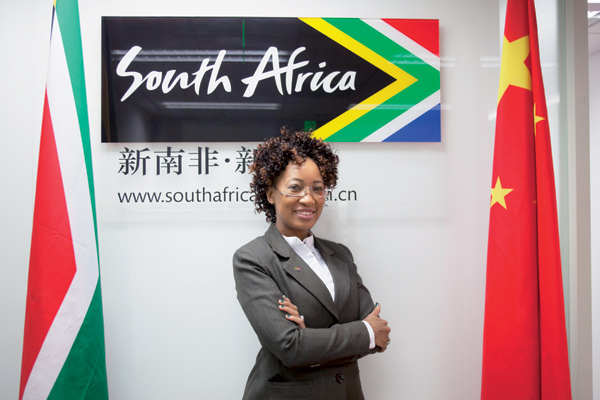 Tebogo Lefifi says opportunities must be created for South African firms to thrive in China and that South Africa should be marketed as a destination for Chinese firms. Kuang Linhua / China Daily