Heavy metal magic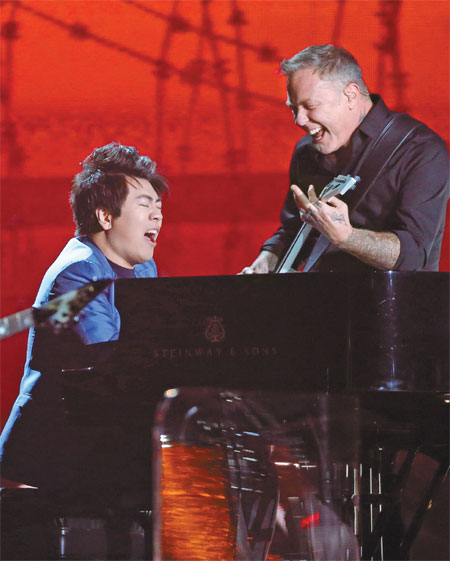 Pianist Lang Lang performs One with Metallica at the 56th Grammy Awards in Los Angeles, California, on Jan 26. The Chinese superstar continues to push the boundaries of classical music on the world's stage. Mario Anzuoni / Reuters
When Chinese pianist Lang Lang collaborated with hard rockers Metallica, there was a meeting of minds as well as musical styles. Chen Nan chats with the classical superstar and drummer Lars Ulrich about their new friendship.
Celebrity Chinese pianist Lang Lang was in his hotel room in Rome on the phone to Lars Ulrich, drummer in heavy metal band Metallica, when he made a promise.
"I will treat you to Peking duck and take you to get a foot massage when you come to Beijing," he said.
"Then we will hurry up and get there as soon as possible," Ulrich said, laughing, on the other end of the phone from his home in San Francisco.
The two musicians from totally different musical worlds consider each other "new best friends" after their successful collaboration at the 56th annual Grammy Awards, performing Metallica's classic song, One, the first single from their 1988 album ...And Justice for All.
During an exclusive interview with China Daily, they were still excited when recalling the experience. "Everyone is talking about our collaboration, even in Italy!" Lang says. The collaboration marked the pianist's first time playing heavy metal, which he regards as a "milestone".
After the Grammy Awards, he returned to what he knows best, touring the United States playing Mozart's sonatas and Chopin's ballads.
"Working with such a legendary band is a great pleasure," Lang says. "The first rehearsal saw our chemistry making music together. It's an incredible experience."
In 2008, Lang was a first-time Grammy nominee and performed with his idol Herbie Hancock. He says performing at the Grammys is very meaningful for him.
"I usually get carried away when I perform onstage. On that night with Metallica, when the fire came up onstage around us, I felt that this is the coolest thing I've ever done," he says.
The 31-year-old pianist remembers the first time he heard Metallica 10 years ago, he was driving to Madrid, Spain, with a friend after one of his concerts.
"Suddenly this heavy metal song came on, and I thought it was really cool. I was overwhelmed," he says. "That is not simply notes and beats. There is a real orchestra behind it."
Metallica, meanwhile, first knew of the pianist in early 2000 when he performed in the US. "He was such an instant phenomenon. He took America by storm," says Ulrich, 51.
"I felt like we've known each other for a lifetime. That was really magical," Ulrich says of their first rehearsal. "You can sit there and imagine the ideas, wondering how things will work out until the five musicians actually gather there and play together. The first rehearsal was just three days before the show, which was dynamic.
"It was just unbelievably effortless. When we actually performed onstage together. It reached peak during the five and a half minutes. We were so focused on what we were doing. We were completely locked in together."
To fit the band's sartorial style, Lang changed from his usual black-and-white Armani suit into a blue suit.
"I asked them what they are going to wear that night and they said 'definitely not tuxedos'," recalls Lang. "Then I thought maybe I should wear a black T-shirt so that we look like one band."
According to Ulrich, Peter Mensch, Metallica's manager, came up with the idea of partnering with the pianist. He says that in the past few years, the Grammys have done many "mashups", bringing artists from different genres and different backgrounds together to make an exciting collaboration. Four months ago, when the Grammys approached Metallica, the cooperation with Lang was the first and only idea offered by Mensch.
Metallica, nine-time Grammy Award winners, are no strangers to classical music. In 1999, they recorded a live album with the San Francisco Symphony Orchestra.
Ulrich says Metallica is in the middle of writing music right now and "the song writes itself".
"The worst thing in music, which I always share, in both of our worlds, classical and rock, is when anything sounds forced and when you are trying to make something happen," he says. "When our collaboration started, it felt right."
For the band, the collaboration with the pianist continues its relationship with China after their two sold-out shows in Shanghai last August.
According to AEG Live Asia, the promoter of Metallica's shows in China, 10,000 tickets sold out in a few minutes, prompting them to add another concert the next day.
Since the Grammy Awards broadcast was aired on TV in Shanghai and radio in Beijing, their performance has caused a stir among Chinese fans.
"I watched the Grammy Awards just because of their collaboration," says Wang Guan, a 31-year-old Metallica fan from Beijing.
Wang bought the most expensive ticket, 1,680 yuan ($274), and flew to Shanghai to watch the band's concert last year. "That's the best show I have ever seen. I booked the ticket three months before the concert because I didn't want to miss it."
Metallica also felt the feverish enthusiasm of Chinese fans during the band's five-day stay in Shanghai.
"You can tell from the atmosphere that people have been waiting for years. When we went onto streets, it felt like a collective sigh of relief," recalls Ulrich. "The audience and the band became one when we performed onstage. The show went to another level. It's really special."
He also says that their performance with Lang brought them closer to China and they will try to return to the country in 2015.
"When you go to a country for the first time, there is always potential for the next level to happen. Shanghai has such a rich history and world culture, Asian culture and European culture. It's a great place to hang out. We look forward to coming back," he says.
Recording Academy president Neil Portnow has named Lang as its Grammy Cultural Ambassador to China in 2008 and is counting on him to promote the Grammys in China.
Lang says the Grammys are focusing significant attention on China, with a goal to potentially establish a regional award show similar to the Latin Grammys.
"We are very close to it. I believe that more Chinese musicians will perform at the Grammys. It's a perfect stage for musical friends to be united," he says.
Contact the writer at chennan@chinadaily.com.cn.
At a glance
Lang Lang's career
1991
Admitted into the Central Conservatory of Music in Beijing at the age of 9.
1995
Won first prize at the International Tchaikovsky Competition for Young Musicians in Japan at age 13.
1996
Studied with Gary Graffman at the Curtis Institute of Music in Philadelphia, the United States.
1999
Played Tchaikovsky's Piano Concerto with the Chicago Symphony Orchestra, bringing him to a global audience for the first time.
2004
Appointed UNICEF Goodwill Ambassador, the first pianist to hold this position.
2005
Performed at the White House, the first Chinese pianist to perform there.
2008
Performed at the Opening Ceremony of the Beijing Olympic Games and launched the Lang Lang International Music Foundation.