Pentagon budget to slash army to pre-WWII levels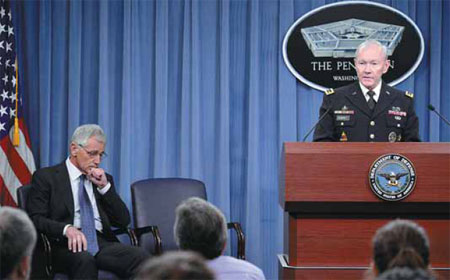 Chairman of the Joint Chiefs of Staff Martin Dempsey (right) briefs the media with US Secretary of Defense Chuck Hagel at the Pentagon in Arlington, Virginia, on Monday about the defense department's new ideas to adapt to government belt-tightening. Mike Theiler / Reuters
Proposal would also retire A-10 aircraft, reduce military benefits
The Pentagon said on Monday it would shrink the US army to pre-World War II levels, eliminate the popular A-10 aircraft and reduce military benefits in order to meet 2015 spending caps, setting up an election-year fight with Congress over national defense priorities.
Defense Secretary Chuck Hagel, previewing the Pentagon's ideas on how to adapt to belt-tightening by the government, said the defense budget due out next week would be the first to look beyond 13 years of conflict, shifting away from long-term ground wars such as Iraq and Afghanistan.
He cautioned, however, that the country needed to be clear-eyed about the risks posed by lower budget levels. Such levels would challenge the Pentagon to field a smaller yet well-trained force that could cope with any adversary but might not be able to respond simultaneously to multiple conflicts.
"We ... face the risk of uncertainty in a dynamic and increasingly dangerous security environment," Hagel said. "Budget reductions inevitably reduce the military's margin of error in dealing with these risks, as other powers are continuing to modernize their weapons portfolios."
The Pentagon chief unveiled his proposals as the administration of US President Barack Obama is preparing to pull out most US troops from Afghanistan following an almost 13-year war.
"As we end our combat mission in Afghanistan, this will be the first budget to fully reflect the transition DOD (the Department of Defense) is making after 13 years of war, the longest conflict in our nation's history," Hagel said.
He also said that US forces must adjust to the reality of smaller budgets, even as he asserted that the US faces a more volatile, more unpredictable world that requires a more nimble military.
"We are repositioning to focus on the strategic challenges and opportunities that will define our future: new technologies, new centers of power and a world that is growing more volatile, more unpredictable and in some instances more threatening to the US," he said.
According to the new budget, the US army would be scaled back 13 percent from 520,000 troops to 440,000-450,000 by 2017, making it the smallest force since before the US entered WWII.
"We chose further reductions in troop strength and force structure in every military service - active and reserve - in order to sustain our readiness and technological superiority and to protect critical capabilities," Hagel said.
The cuts come as the Pentagon is attempting to absorb nearly a trillion dollars in reductions to projected spending over a decade. A two-year bipartisan budget deal in December eased some of the pressure on the department, but it still cut planned spending by $31 billion in 2014 and $45 billion in 2015.
The Pentagon's budget for the 2015 fiscal year beginning in October is an estimated $496 billion, about the same amount as the current fiscal year. Beginning in 2016, the department's budget is slated to assume even larger spending cuts, which Hagel said could jeopardize national security.
Defense analysts said the budget priorities sketched out by Hagel would begin to move the Pentagon in the right direction on issues like military compensation reform and eliminating waste. However, they said, the proposals could face difficulty in winning support from lawmakers facing midterm elections to Congress.
"Congress always modifies the president's budget request. They will again. The question is will they do it in small ways or large ways," said Kathleen Hicks, a former official who is now an analyst at the Center for Strategic and International Studies.
Reuters-Xinhua-AP-AFP