Women empowered by PLA careers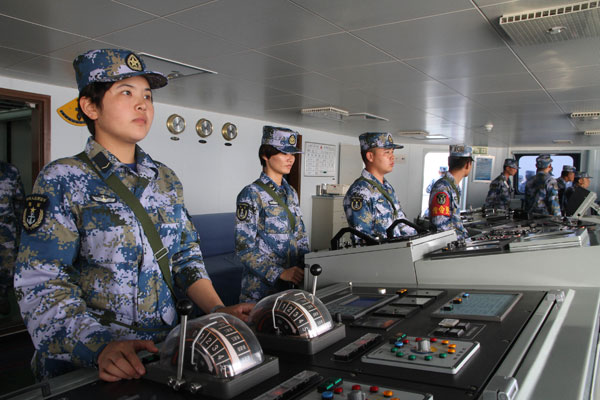 Alimra Jumadel (first from left), a Kazak woman who serves on the PLA navy's amphibian landing craft Changbaishan, is on duty on the navigation bridge. Gan Jun / for China Daily
Crew members say experience has given them sense of pride
Editor's note: Navy warships from the People's Liberation Army are engaged in a long-distance training mission in the Pacific and Indian oceans. China Daily reporter Zhao Lei brings fresh stories about the training from the amphibious landing craft Changbaishan.
A sailor's life on the ocean waves was once beyond the wildest dreams of women like Alimra Jumadel, who comes from a small city on the China-Kazakhstan border.
"I had never thought about being a sailor with the People's Liberation Army navy," the 20-year-old woman from the Xinjiang Uygur autonomous said as she monitored apparatus displaying the course of the Changbaishan, a large amphibious landing craft in the South Sea Fleet.
"When I signed up, I thought I was going to be in the army. But now, as you can see, I watch the immense, blue ocean every day. Sometimes I even see dolphins," she said.
Born and reared in Bole, a city close to Kazakhstan, she was familiar with the sight of mountains and grasslands but she never saw the sea or smelled its breeze. When she graduated from high school in 2012, she joined the PLA in the hope of "fulfilling my childhood dream".
"I liked watching movies when I was a little girl that depicted life in the PLA. I often saluted, as a child, in front of my mirror and each time I heard military songs, I was inspired."
Like many other sailors, she had to overcome early seasickness before she found her sea legs.
"I endured nearly two months of nausea and dizziness from the first day I boarded this ship," she recalled. "I didn't want to quit or even ask to be transferred to a post on land because there are only two female sailors in the navy that come from my hometown. We are our family's pride and must earn honor and respect."
The navy began to recruit and deploy female sailors on combat ships in 2012 and most now have women onboard.
There are 10 Muslims serving on the Changbaishan, she said, adding that their religious and ethnic customs are respected.
"The ship has allocated a special kitchen and designated a cook to make halal food for us. We are from different ethnic groups and different places, but that doesn't prevent us from becoming good friends."
She said the navy has made her stronger and more independent, and these changes have been noticed by her officers.
"Alimra Jumadel is learning new things much quicker than before and has proved herself capable of commanding complicated skills even though her education is not as high as university graduates," said Lieutenant Junior Grade Yuan Xian, who is responsible of the 26 female sailors on the Changbaishan.
Personal development
E Teng, a Mongolian woman who also hails from Bole, has also benefited from the disciplined naval lifestyle.
"I didn't like restrictions and regulations before I joined the navy, so it took me quite some time to get used to the rigorous discipline of the PLA. Now I am a competent servicewoman," the 22-year-old said.
"I am the youngest child in my family, so my parents pampered me a lot," she added. "But my father didn't think I was able to do anything remarkable, and that spurred me to prove myself."
It was the drive to prove herself capable that helped her pass through rounds of tests, and she outperformed nearly 2,000 women in Urumqi who competed for 12 naval posts.
She signed up with the military in 2012 right after receiving an associate degree in finance from a vocational college in Urumqi, capital of Xinjiang.
When asked by draft officers whether she wanted to stay in Xinjiang or serve at sea, she answered: "My grandpa was a soldier in the army, and my dad was a paratrooper with the air force, so I am going to be a sailor with the navy."
She operates equipment in the ship's helicopter section and has fallen in love with her navy career. She is determined to continue with it despite the well-meaning advice she is often given by relatives.
"What I do in the navy is definitely irrelevant to my major in college, which enabled me to land a high-paying job in a bank. My mother, brother and sister keep trying to persuade me to leave the navy as soon as my service ends," she said.
"In addition, my boyfriend, an army artillery specialist in Xinjiang, spares no effort in trying to get me to retire on schedule so we can get married. But I've made up my mind that I will stay in the navy, even if it means breaking up with him."
Another woman who feels herself empowered by her PLA naval career is Yong Ronglan, a member of the Xibe ethnic group from the Ili Kazak autonomous prefecture in Xinjiang.
She said the navy has transformed women who did not know much about life at sea into self-assured and confident people who can answer their country's call.
"What really counts is that the navy has given us more than just military skills, it has given us a sense of team spirit and opportunities to see the world."
zhaolei@chinadaily.com.cn