Eat out royally on the king of crabs
The hairy crab season is over, sadly. But it doesn't necessarily mean another eight or nine months' wait for the hallowed, plump, autumn delicacies that make many foodies' mouths water just by their mention.
As the river crustacean is away, the sea spiders - the king crabs freshly caught in the waters of the west Pacific - are coming into play. While the former are more succulent, the Pacific rivals are dubbed "the king of crabs" for a reason. The newly opened sushi bar Sen-ryo in Shanghai proves its size, reaching more than 3 meters from claw to claw at maximum, is not the only reason for the title.
It's no surprise that Japanese eateries excel in preparing seafood, but Sen-ryo, from Utsunomiya, north of Tokyo, and most famous for its unusually fresh sushi for the past decade at its hometown and in Hong Kong, is introducing a menu of "one crab, three eats". That is to say: Eat one crab in three different ways.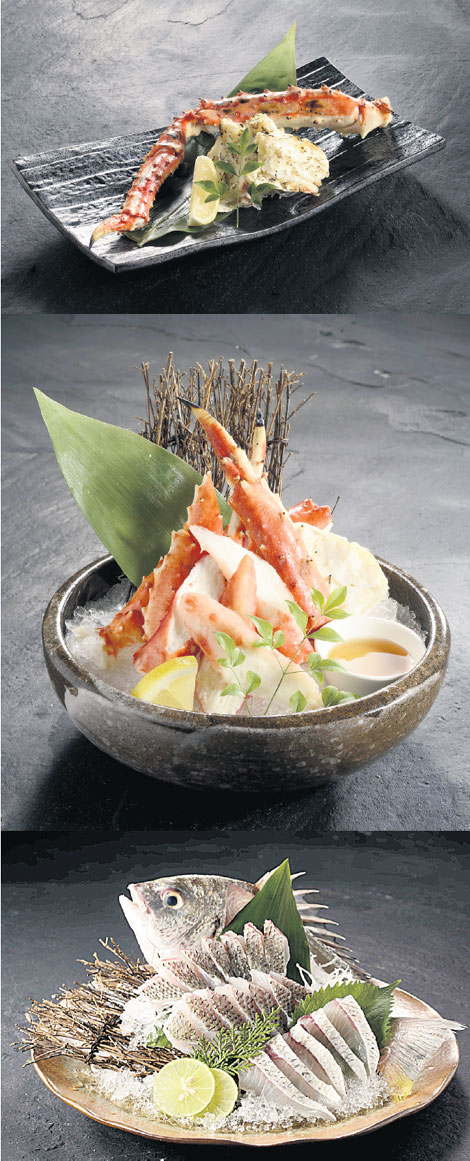 Sen-ryo's seasonal special include the grilled king crab and the crab sashimi, which were freshly caught in the waters of west Pacific, and seabream sashimi that features a spongy yet firm texture. Photos Provided to China Daily
There is the crab sashimi, which best preserves the juiciness of the crabmeat, and the grilled crab, which is most similar to the Chinese hairy crab in taste, especially after a dip in the "secret sweet-sour sauce" prepared by the chef. The favorite of our lunch table, however, is the crab in dashi, fish stock and seaweed broth. Although the crab no longer dominates the plate, it gives the winter-warming soup a subtle flavor. 
My suggestion, after sampling all three at one meal, is to pick one as the highlight for a feast to your heart's content.
The other seasonal special now is the seabream sashimi. A must-have during Japanese festivals, the crystal-clear fish meat boasts a spongy yet firm texture. The fish is often served generously whole so sashimi fans can try different parts of it.
Among appetizers, the tuna salad with avocado is impressive, not only because of the soft but varying textures of the two, but also the slightly spicy sauce containing sesame spread all over, forming a great contrast both in flavor and texture. It gets your palate excited and ready for the feast to come.
If you are in the mood for some spirits for the jolly festival season, the fresh-made fruit wine from the chef's kitchen daily is worth a try. It's barely wine, more like warm fruit juice, but as the glasses clink and toasts are proposed, the cheered spirits are the same.
xujunqian@chinadaily.com.cn