Boston concert marks Spring Festival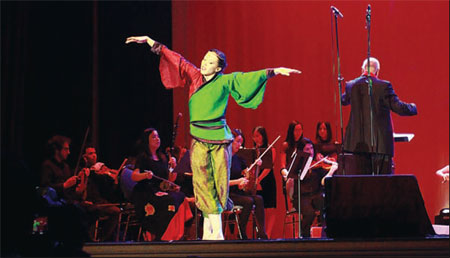 Choreographer Molly Gawler dances to the original composition "The Great Waltz of China" by Mark Simos and Allen LeVines at the 2014 Ivy League Spring Festival Gala in Boston last weekend. Li Nanxi / for China Daily
As if by magic, a man turns a piece of leaf into a musical instrument and the timbre is loud and clear. The crowd applauds as he plays more than five different types of Chinese wind instruments.
Guo Yazhi, the virtuoso Chinese wind player best known for inventing the Chinese instrument known as the suona, which has a removable reed, instilled a new lease on life into ancient instruments at the 2014 Ivy League Spring Festival Gala at Boston's John Hancock Hall Saturday, drawing an audience of nearly 1,200 in celebration of the Chinese Lunar New Year of the Horse.
Hosted by the Harvard Chinese Students and Scholars Association, the gathering also featured Grammy-winning and nominated musicians, such as Eugene Friesen and Sandeep Das, who demonstrated the spirit of peace that is associated with the Spring Festival.
Behind it all was Rujing Huang, a third-year PhD candidate in Harvard's music department who took up the directing role several months ago.
"What is unique about this year's Gala, as compared to ones held in previous years, is really the fact that we make it inclusive in every possible aspect, from the choice of MCs and the selection of performances to the diverse cultural and musical backgrounds that the performers come from," Huang said. "I think only by initiating this kind of active cultural exchange can we start to know each other better and make Chinese New Year an occasion that is shared by audiences from East and West."
A highlight of Chinese New Year 2014 was the world premiere of a new artistic adaptation of Berklee College of Music song writing professor Mark Simos' "The Great Waltz of China," which was created especially for the 2014 Ivy League Spring Festival Gala.
"It's quite a pageant, all coming from this little humble folk tune that I wrote almost 30 years ago. For me, it's a combination of something that I have dreamed of for a long time, but I still can't quite believe it is happening," Simos told China Daily during a rehearsal.
Simos originally composed the piece in 1985 as an instrumental waltz, inspired by a dancer's whimsical pun. Now with Huang's Chinese lyrics and an English poetic translation added, the piece is evolving into an interwoven multi-cultural collaboration.
The Gala performance also features Berklee World Strings, directed and conducted by Grammy-winning cellist Eugene Friesen, performing Chinese composer Li Huangzhi's popular "Spring Festival Overture".
"Asia has not been very well represented in our repertoire, so I jumped at the chance to participate in this concert for the Lunar New Year," Friesen said after the concert. "Obviously China is a very important friend and ally of the US and I feel very lucky to be invited to this Gala."
Opening the show was jazz vocalist and Berklee graduate Huang Yun. Also performing was cellist Mike Block, with tabla maestro Sandeep Das - both of whom are members of Yo-Yo Ma's Silk Road Ensemble.