Japanese food chain faces dicey hurdles
Yoshinoya Holdings, a major Japanese gydon (beef-on-rice) fast casual restaurant chain, hopes to increase its presence in the US and China over the next several years, plans that could be complicated by political tensions between China and Japan, according to an economist.
Yoshinoya wants to double its US restaurants to about 200 and triple the number of shops in China to 1,200 in response to heavy reliance on the Japanese market, but Barry P Bosworth - an economist with the Brookings Institution, a nonprofit public policy organization based in Washington - said the political issues between China and Japan could have a marked effect on Yoshinoya's expansion.
"China is Japan's most rapidly growing market, but Japan has had some setbacks over the last six months," Bosworth told China Daily in an interview on Monday. "Things have cooled down a bit between China and Japan, but it continues to fluctuate. This will hurt Japanese companies because personal perception in retail has a lot to do with the acceptance of products."
The Diaoyu Islands dispute has reared its head a number of times in the past few years, but more recently Japanese Prime Minister Shinzo Abe got himself into domestic and diplomatic hot water for a Dec 26 visit to the Yaskukuni Shrine in Tokyo - a shrine that honors, among others, 14 Class-A Japanese war criminals from World War II.
"Every time there's another outbreak of public anger, it will hurt Japanese companies," Bosworth added.
Kyodo News reported on Jan 10 that Yoshinoya aims to hit its China target in three years and its US target "at an early date", according to Yoshinoya President Yasutaka Kawamura - a goal that would give China the same number of Yoshinoya branches as Japan.
Yoshinoya, one of the world's largest chains of gydon restaurants, was originally established in Tokyo, with origins dating as far back as 1899. In 1979, the first Yoshinoya restaurant in the US opened in Los Angeles, and 13 years later operations in China began.
Bonnie Riggs, a restaurant industry analyst with NPD Group Inc, a market research firm, said the fast casual dining trend has outpaced the success of the overall restaurant industry in recent years.
"Fast casual restaurants started out the decade with a market share of only one percent, and now it's four percent," Riggs said. "Yoshinoya seems to fit in with this group of fast casual restaurants, which continues to grow and steal market share. It's about understanding the marketplace and the consumer's needs."
Riggs also said that consumers are willing to pay extra because restaurants like Yoshinoya "deliver on value expectations".
"Fast casual restaurants are benefitting from consumers trading down from full-service dining and up from fast food establishments," Riggs said. "This group of restaurants has a very broad appeal, not only for millennials but also for boomers and beyond. We forecast that over the next 10 years, this group of restaurants will grow at double-digit rates."
According to Technomic Inc, a Chicago-based research and consulting firm, Yoshinoya's overseas net sales in the nine months ending Nov 30 accounted for nearly $90 million, or about seven percent of the company's total sales in that same time period.
Andrew Weber - an analyst with Franchise Help, an online portal for information and analysis on trends in the franchise industry - said Yoshinoya's moves to increase its global presence are not a slam-dunk "by any means".
"With the right timing and placement it could work," Weber said. "As the two biggest markets, diversifying in the US and China offers the most opportunity for growth. Without speaking about the finer level details, that's where the money is, so the moves make sense."
jackfreifelder@chinadailyusa.com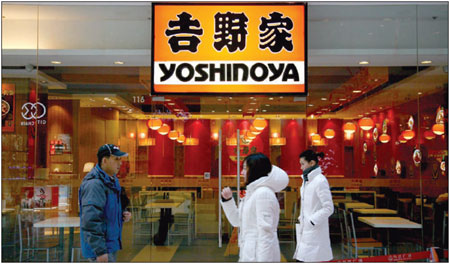 A Yoshinoya restaurant in a shopping center in Beijing. The Japanese restaurant chain said it aims to grow its business in China and the US aggressively, but analysts said the complicated political environment between China and Japan following a controversy over a Tokyo shrine may hobble their growth plans. Provided to China Daily