Seoul slams Abe's shrine visit
National Assembly resolution cites negative impact on ties with Japan
A resolution passed in Seoul has condemned Japanese Prime Minister Shinzo Abe's visit to the Yasukuni shrine, which honors the country's World War II war criminals, calling it a "diplomatic challenge", local media reported on Monday.
In view of the anger felt by the people of South Korea and the country's pragmatic national interests, Seoul is now joining hands with Beijing and others to criticize Japan for trying to change the post war status quo and threaten the situation in Northeast Asia, observers said.
The resolution adopted by the South Korean National Assembly committee on foreign affairs said Abe's visit has had a serious negative impact on Seoul-Tokyo ties and peace and stability in the region.
"Similar to lifting the ban on exercising the right of collective self-defense, Abe's official visit to the shrine is behavior that glorifies aggression and revitalizes militarism," it said.
Abe visited the notorious war shrine on Thursday for the first time in around seven years as the incumbent Japanese prime minister.
The shrine has been seen as a symbol of Japan's war of aggression and colonial rule as it enshrines war criminals, including Hideki Tojo, who plunged East Asia into a devastating war, and Kuniaki Koiso, who was governor-general of Korea during the colonial rule that pillaged the country through coerced conscription, forced labor and extortion.
Japan should immediately stop its retrograde step that harms peace and stability in the region, the resolution said.
South Korea hopes to make Japan correct all of its mistakes through diplomatic measures until it doesn't deny its history of aggression any more, it added.
South Korean Foreign Minister Yun Byung-se said, "Further repercussions on the already tension-ridden relations between South Korea and Japan are inevitable," adding that Seoul will seek cooperation with the international community to deal with the "unjust historical perspective of Japanese leaders".
Abe's visit also triggered anger from other circles in South Korea.
Choi Kyung-hwan, floor leader of the ruling Saenuri Party, said Abe's anachronistic right-leaning stance and ambition of reviving militarism has "far more to lose than gain".
Around 100 South Korean citizens rallied in front of the Japanese embassy in Seoul on Friday to protest Abe's visit to the notorious war shrine.
Abe's visit made it clear that his previous claims of repairing trust were untruthful," Chun Kalim, a professor at Hoseo University, told Xinhua News Agency.
Abe's visit has drawn criticism not only from China and South Korea but also from Japan's key ally, the United States, with the State Department saying it was "disappointed" to see the Yasukuni visit exacerbate regional tensions.
Wang Junsheng, a researcher of East Asian studies at the Chinese Academy of Social Sciences, said, "It is time for Beijing, Seoul and Washington, which have been pushed to similar positions by the Japanese prime minister's Yasukuni Shrine visit, to make concerted efforts to stop Japan going further on its right-wing path."
Referring to similar criticism from China, South Korea and the US, a Wall Street Journal editorial said on Saturday there is "a strange coalition that highlights the enduring delicacy of East Asian politics nearly 70 years after World War II".
It is "troubling enough" that some senior Japanese officials persist in whitewashing the truth about chemical weapons, sex slavery and other wartime atrocities, the newspaper said.
Contact the writer at zhouwa@chinadaily.com.cn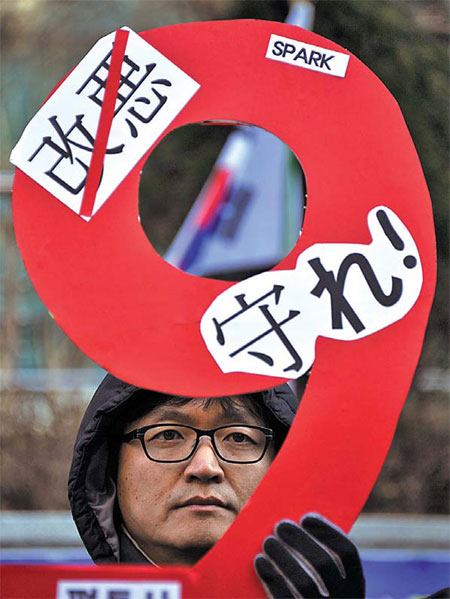 A protester displays a banner outside the Japanese embassy in Seoul on Friday to complain about Japanese Prime Minister Shinzo Abe's visit to the Yasukuni Shrine. Woohae Cho / Agence France-Presse