From Putin to Rodman to Kobe's mom: one weird year
There was also a barking lineman, an Aussie Rules masquerade and that Brazilian masseur who decided to become a goalkeeper, Associated Press reports.
The story had all the elements of a Cold War thriller: a wealthy American businessman, Russian leadership at the highest levels, diplomatic intrigue and purloined jewels. Regrettably, there was no romantic subplot. But if the movie rights on this are ever sold, that will be an easy addition to the script.
The mystery of Robert Kraft's wayward Super Bowl ring was one of many odd places sports wandered into in 2013. Here are a few more: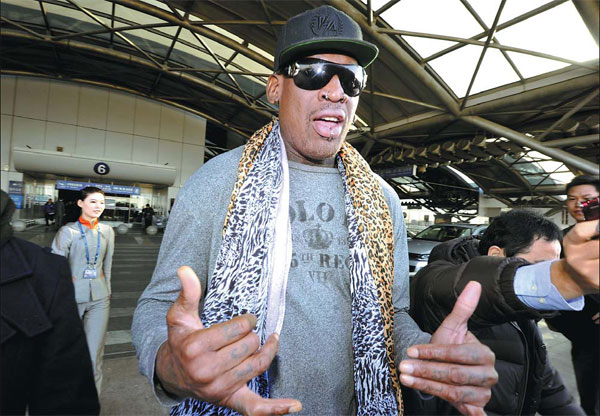 Former NBA star Dennis Rodman speaks to journalists at Capital International Airport in Beijing after arriving from Pyongyang on Dec 23. Rodman is trying to organize a series of exhibition games in the DPRK to promote 'basketball diplomacy'. Kyodo News / Associated Press
A suspect in Vancouver's 2011 Stanley Cup riots was identified as a former Miss Congeniality beauty pageant winner; a top high school girls' basketball team in Iowa featured four sets of sisters; ski star Lindsey Vonn was called off a New York red carpet at a Lincoln Center fashion gathering for a random drug test.
Torii Hunter of the Detroit Tigers missed a game because of an Achilles tendon injury caused by wearing dress shoes that were too tight; New York Jets coach Rex Ryan ran with the bulls in Pamplona after his team was unable to run with the Bears, Broncos and Bengals; the world's oldest marathoner, Indian-born Fauju Singh, decided enough was enough and stopped running at 101. "I will miss it," he said.
Meanwhile, Kraft's saga began in June in one of New York's finest hotels. The owner of the New England Patriots was speaking at a gala where he was being honored.
He regaled the guests by telling them how one of his Super Bowl rings wound up on display at the Kremlin.
Kraft said he was visiting St. Petersburg with a business delegation in 2005 when he was introduced to Vladimir Putin and showed the Russian president the diamond-encrusted ring.
"I put my hand out and he put it in his pocket," Kraft said, as quoted by the New York Post. "And three KGB guys got around him and walked out."
At the time, Kraft said it was a gift but would later say he wanted the ring back. The White House, he suggested, thought it best for him to say this was indeed a gift and not stir political relations.
Days later, the story shifted across the Atlantic. Putin was in London and his spokesman was asked about the Tale of the Ring. Dmitry Peskov said he was there when Putin met Kraft. Peskov dismissed the entire episode as a matter better suited for a "detailed talk with psychoanalysts".
Or comedians.
Kraft spokesman Stacey James called it an "anecdotal" story the owner plays for laughs. Putin soon weighed in dryly on "this complicated international problem". He said, in fact, he didn't remember Kraft. But, Putin went on, if this ring is "so valuable", he would be happy to make amends and order Kraft some new jewelry.
This was not the only puzzling intersection between sports and politics in 2013.
Dennis Rodman, of course, landed in the unlikely spot of the Democratic People's Republic of Korea. The former NBA star, for whom flamboyance is an understatement, was wined and dined during his mission of basketball diplomacy by DPRK leader Kim Jong-un. Rodman, who knows about winning titles with the Chicago Bulls, later seemed miffed he did not win the Nobel Peace Prize.
Also miffed was Chechen strongman Ramzan Kadyrov. During a Russian league soccer game he became incensed that the captain of Terek Grozny was ejected. Kadyrov grabbed a microphone and roared to the fans: "The ref's been bought off! You're an ass!" On reflection, he called his response "a cry from the soul".
New York City Mayor Michael Bloomberg came in peace to a Knicks game last January at Madison Square Garden. A courtside waitress stopped by to take orders, although it's not clear if it was for the mayor. Stephen Jackson of the Spurs crashed into the waitress and left the game with a sprained ankle. Bloomberg was later seen munching popcorn.
The law found some players in curious spots, notably Kobe Bryant.
The Los Angeles Lakers star became entangled in a lawsuit involving his mother.
At issue was whether a New Jersey auction house could sell some of his memorabilia, which his mother offered for sale.
The parties settled, but there was this entry in court papers: "Mom, I never told you that you could have the memorabilia," and Pamela Bryant responded, "Yes, but you never said you wanted it, either".
Florida linebacker Antonio Morrison was charged under one of the more obscure laws on the books - barking at a police dog.
According to authorities, Morrison was walking by an open window of a police car. He decided to bark at the dog; the dog decided to bark back. A deputy arrested Morrison. The charges were dropped, and it was acknowledged a warning to the barking player would have been more appropriate.
Two Australian Rules football players thought they'd have some good fun. Josh Caddy and Billie Smedts donned ski masks and broke into a teammate's house. One problem: Caddy and Smedts were at the wrong address. Police, with guns drawn, soon arrested them.
Embarrassments, not just from pranks gone wrong, came in all forms.
The commissioner of Japanese baseball, Ryozo Kato, introduced a new, livelier ball. There was, however, an omission. He didn't notify the players. Kato apologized and said he would have to "carefully reflect on my responsibility to the game".
A fourth-division Brazilian soccer club was tossed from the playoffs after its masseur jumped on the field. The masseur, Romildo da Silva, took his spot in the vacated goal and proceeded to make two key saves. Opposing players chased him off the field, and police arrested him for his own protection.
Nigerian soccer had its own mess. Two lower league games that ended in scores of 79-0 and 67-0 were found to be fixed. Lifetime player bans and team suspensions followed. The Nigerian federation decried the games as a "mind-boggling show of shame".
Most athletes serve up boilerplate cliches in postgame comments. But some reveal perhaps more than they should.
Consider mixed martial arts fighter Nick Diaz. While discussing his loss in a title bout in Montreal, he talked about his financial situation: "I just have to invest a little bit more, now that I have a little bit more money. You know what? I've never paid taxes in my life. I'm probably going to jail."
Tennis star Richard Gasquet took a deep philosophical turn after his five-set loss to Stanislas Wawrinka at the French Open. When asked to describe where the pain from the defeat hurt most, he said: "In the soul, for sure."