Somalis aim to be dandy at bandy
African squad training in Sweden for ice sport's world championship
Somalis on ice skates seems as implausible as Jamaicans in a bobsled, but a Swedish-based team is preparing to represent the troubled African nation at next month's world championships in the sport of bandy.
Formed just months ago and made up of immigrants who have settled in Borlaenge, a town some 200 km north of Stockholm, the Somalia bandy team is an unlikely tale that has echoes of the 1988 Jamaican winter Olympians immortalized in the film Cool Runnings.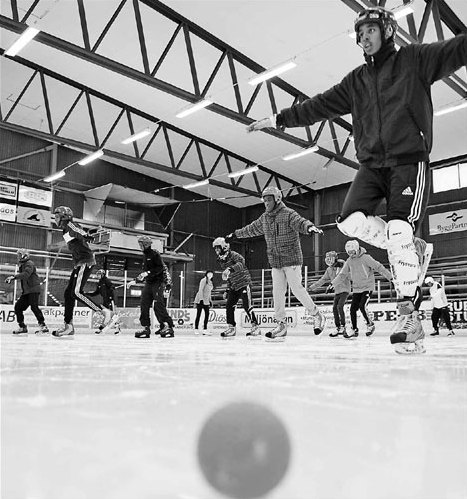 Somali players work on balance during their bandy team's training session on Sept 24 in Borlaenge, Sweden. Somalis in Sweden have formed a national bandy team to represent their country in the upcoming world championships in the Irkutsk, Russia. Jonathan Nackstrand / Associated Press
Recruited from a local soccer club, the team has been taught in a short time to skate and play a game similar to ice hockey, but with differences.
Bandy is played on a soccer-sized field, there are 11 players on each team, a ball is used instead of a puck, the goals are larger and the sticks shaped differently.
The learning curve has been steep and long.
But despite being thrashed by a local side in their first competitive game earlier this month, the Somalis have cheekily declared themselves African champions for 2013 - based primarily on the fact that no other country on the continent has a team.
"They want to inspire their brothers and sisters that live here in Borlaenge, and all other Somalis and immigrants who live elsewhere in Sweden," said team coach Pelle Fosshaug, who won six Swedish bandy titles and was crowned world champion five times with Sweden during his playing career.
"That is what we want to do, and I believe we've already started to do it."
Sweden, Finland, the former Soviet republics, Canada and the US are considered the game's strongest footholds.
Somalia, improbably, is set to join Japan, Ukraine and Germany in the B group at the world championships in Irkutsk, one step below the elite nations.
The idea of a Somalian team came from Patrik Andersson, a local entrepreneur, who saw it as a way to help integrate some 3,000 Somalis residents of the town.
He contacted the Somali government and the Olympic committee as he sought a way for sport to help the new arrivals settle in the Swedish town - and to help the Swedes learn more about Somalia.
"I registered the team with the Federation of International Bandy and got in touch with the government and the Olympic committee in Somalia to get their permission to do this. Somalia has never had a team in a world championships, not in any team sport," he said.
"Many have come in a short time and it's not easy for them to get jobs. There is a lot of segregation. They live in two areas in particular and have a hard time getting into the labor market."
To help bring the Swedes and Somalis together, Andersson approached a local soccer club with a lot of Somali players and asked them if they would like to play bandy, and the idea of a Somali national team was born.
The team is already a source of great pride to many in the local Somali community, who packed the rickety wooden stands on a freezing night to wave their flags and see their team play its first game against a local side.
Though they were on the wrong end of a 15-0 drubbing, there is a widespread belief that the team can improve.
"These players only started playing five months ago, and some of these guys have been in Sweden for less than a year," said Said Ali, who traveled to Borlaenge from Stockholm to film and photograph the historic game.
Somali goalkeeper Ahmed, voted man of the match, said he was disappointed with the result but that his team had played "OK" for their first outing.
"We want to win at all costs, but we're looking forward to the world championships," he said, before revealing that he first put on a pair of ice skates just three months ago.
Andersson is well aware of the strong feelings of patriotism among the Somalis, and said not everyone in the town is behind the initiative.
"There's a lot of their countrymen who say 'What are you up to? You're making a show of yourselves!' It's not easy for them."
Borlaenge is something of a bandy stronghold and local fans are warming to the team.
"It's getting better and better," says Andersson. "There are those who are against it, I'll be honest about that, but I feel we have great support."