Corn rejections 'little cause for concern': analyst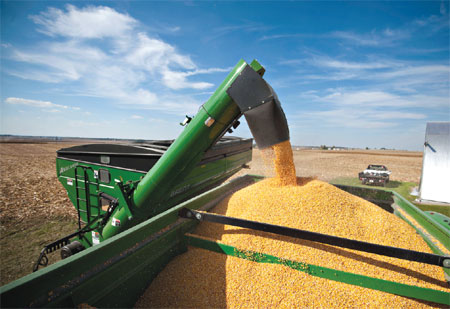 Corn is transferred from one grain cart to another during harvest outside Malden, Illinois. China's rejections of 600,000 tons of corns on the reason of being genetically modified won't hurt US agricultural exports to China significantly, analysts said. Daniel Acker / Bloomberg
China's rejection since mid-November of hundreds of thousands of tons of US corn and corn byproduct is little cause for concern, according to a grains analyst.
Chinese and US officials will meet to tackle the problem before any marked effect on trade is noted, said Shawn McCambridge, a senior grains analyst at Jefferies Bache Commodities LLC in Chicago.
"This issue will be addressed at high levels in each government," McCambridge said Thursday in an interview with China Daily. "These issues come up every once in a while. While it is unusual, I don't really think it will have a great deal of long-term effect on trade between China and the US in terms of corn."
Reuters reported Dec 18 that China had rejected 600,000 tons of corn from the US since mid-November because the shipments are the hybrid MIR162, a modified variety of insect-resistant corn developed by Syngenta AG, a Swiss company specializing in the marketing of seeds and pesticides. China has not approved the import of that hybrid.
"We're talking about a hybrid that's been approved by nearly every nation in the world, including the EU," McCambridge said. "It's not a case where China is rejecting something that someone else won't take. We've actually seen the opposite, where a lot of these rejected cargoes have been diverted to other markets - albeit at a discount."
"It may take some time, but tensions will start to rise if things don't get resolved," McCambridge said. "If the market was overly concerned that this was going to devastate the business relationship, we would most likely have seen corn go down. China is looking to diversify and the world market has seen that."
John Payne, a senior market analyst with Daniels AG Services in Chicago, sees the corn rejections as a minor issue for US corn growers.
"This is the first time they've ever really done anything like this, and we just happen to have a lot of product," said Payne. "It's more of a psychological dart at the corn market. In reality we're the only shop on the block. When it comes to corn, beans and wheat, if you need product tomorrow you're coming here."
The corn-shipment rejections come when it appears China may end its two-year ban of apples from Washington State. A spokesman for the USDA said earlier this month that Chinese agricultural officials are close to allowing Washington's Red and Golden Delicious apples back into China next month.
China banned apples from Washington - the only US apples allowed in China - after a shipment to China in early 2012 was declared to be carrying "postharvest diseases." It is unclear if that will also open up the US import of apples from China, which produces half the world's apples.
According to a June 2013 report by the US Department of Agriculture, North Asia - a region comprised of Japan, the Chinese mainland, South Korea, North Korea, Hong Kong, Taiwan, Mongolia and Macao - accounts for more than one-third of all US agricultural exports.
Bulk commodities - including soybeans, corn and cotton - account for an overwhelming 56 percent of US agricultural exports to the North Asian region. China has seen its bulk commodity imports from the US increase to $20 billion in 2012 from $1 billion in 2002.
However, Payne said that there is some potential for China's demand for corn to decrease.
"It's very difficult for us to try to fundamentally assess the balance sheet of the world's corn supplies," Payne told China Daily.
jackfreifelder@chinadailyusa.com