Happiness the measure of success in Jilin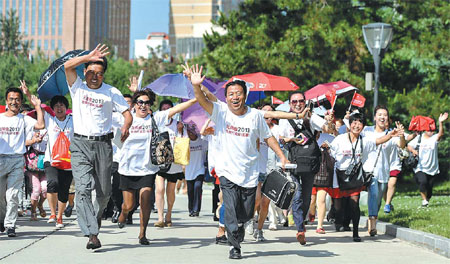 Changchun people participate in a long distance walk. As living standards are improving, locals are more active in entertainment and sports events. Wang Haofei / for China Daily
The local authorities are endeavoring to promote economic and social reforms so people in the province can reap more benefits, Li Fusheng reports.
Despite great achievements in the past years, Jilin province in Northeast China remains underdeveloped, and the priority for the authorities is promoting reform and development in an "unswerving" way to improve the lives of residents.
"Improving people's livelihoods is the starting point and ultimate goal of all our work," said Wang Rulin, Jilin's top political leader.
"It is the key to revitalizing Jilin, and it is also what the 27 million people in Jilin expect," said Wang. "Now that they have chosen us, we have the responsibility of meeting their expectations."
The only measure of success is whether local people enjoy better lives, he added.
The provincial government has initiated a series of programs that will bring profound improvements to many aspects of people's lives, ranging from medical care and employment to education and affordable housing.
Many of these programs are already yielding fruitful results, with people in the provincial capital Changchun the first beneficiaries.
Better medical care
As a pioneer in the province, the Changchun government started reforming its medical system in 2010 and completed its first round of reforms in late 2012.
Statistics show by November its urban medical insurance program covered 3.77 million people, 99.7 percent of the permanent population in downtown Changchun.
The government has also improved the new cooperative insurance program designed for rural residents. By paying a 350 yuan ($57.65) premium, those insured will be reimbursed 75 percent of their medical bills.
The local medical authorities have also earmarked funds to improve and renew equipment at medical facilities in rural Changchun.
Now all its 134 town-level hospitals and 59 community medical centers meet the nation's medical standards, and a program has been initiated this year to build medical clinics in villages.
Drug prices have also fallen by almost 25 percent after the reforms were initiated and more than 40 medical services are rendered free of charge to local residents, including physical checkups for those aged over 60. Medical records are also being established for permanent residents.
More jobs
In addition to medical reforms, the Changchun government has been working hard to promote employment in 2013.
So far, it has created more than 110,000 new jobs, transferred some 900,000 redundant rural workers to the city, and organized training sessions for some 80,000 people to improve their skills.
To help find employment for people laid off by State-owned companies and those covered by the city's minimum living standard system, the government offers companies that hire them for more than one year an annual subsidy of 4,800 yuan per person.
Local authorities are also encouraging the development of private enterprises in the city.
By November they had exempted more than 400,000 industrial or commercial households and 27,000 small and micro companies from tax, saving them more than 1 billion yuan in total.
In addition, exemptions from administrative charges and annual tax rebates of 8,000 yuan for three years are offered to fresh graduates and those who have been unemployed for more than six months to encourage them to start businesses in 10 industries, including construction, entertainment and advertising.
Education for poorer kids
Another part of the Changchun government's campaign to improve people's livelihoods is to help poor students, both urban and rural, receive education.
Now kindergarten kids from families covered by the minimum living standard system each receive a monthly subsidy of 350 yuan, and if admitted to junior or senior middle schools, each of them will receive a subsidy of 3,000 yuan when they enroll. They are also provided with free textbooks and uniforms.
Student loans are available for those who want to pursue higher education, and, up to November, 3,010 students had received loans totaling 16.8 million yuan from the education authorities.
The city's non-profit organizations are also giving poorer students a helping hand.
For several years the Changchun Charity Foundation has been helping students from poor households receive higher education by offering them subsidies ranging from 3,000 yuan to 10,000 yuan.
So far more than 50,000 college students have received subsidies totaling 20 million yuan.
And the city's association of disabled people is helping families with disabled members pay the tuition fees for their children.
Students from such families in Changchun will be awarded 3,000 yuan when they are admitted to universities and 2,000 yuan when admitted to junior colleges.
Infrastructure and Happiness Plan
As winter comes, the city government has stepped up its efforts to renovate the heating systems in the city's old buildings.
It is also speeding up the demolition of dilapidated buildings in Changchun, and 67 have been demolished, with another 217 evacuated and awaiting demolition.
The city's expressway network is almost finished and will be open to traffic by the end of the year. And a number of parks have been built.
Meanwhile, the city government has worked out a list of 16 tasks in 2014 to improve people's lives.
According to the 2014 Happiness Action Plan released in early December, some of the priorities for the province are creating another 120,000 jobs, building affordable houses for 7,000 households, and promoting the pension insurance system to cover another 63,000 rural residents.
Combating air pollution, renovating the heating system and improving the quality of drinking water are also on the list.
"We will work hard and finish them one after another," said Zhao Shoufeng, head of the city's office of civil affairs. "By our efforts, we will create happier and happier lives and improve people's satisfaction."
Contact the writer at lifusheng@chinadaily.com.cn