Institute keen to develop foreign talent
Boosting soft power depends on well-planned expansion
As the Confucius Institute prepares to enter its second decade, it hopes to expand the promotion of Chinese culture overseas by cultivating a new grade of expert.
"The aim is to foster more China hands, who not only understand China's language and culture, but also the country's economy, politics and law," says Zhu Chongshi, a member of the Council of the Confucius Institute Headquarters.
Launched late last year, the Confucius China Studies Program allows foreign students to pursue doctoral degrees or participate in joint PhD fellowship programs. It also provides opportunities for foreign political, economic and media leaders to experience in-depth exchanges.
So far, 30 foreign PhD students and 40 joint PhD fellows have been given the opportunity to study at 14 universities in China, including Peking University, Renmin University of China and Xiamen University.
"To promote Chinese culture, we cannot just count on experts from China, we have to foster more China experts in other countries," says Zhu, who is also president of Xiamen University.
Chang Shiru, director of the Barcelona Confucius Institute, says the future for the Confucius institute is in offering high-end education.
"When we learn about Western culture, cola and hamburgers are not enough - we also need Goethe and Cervantes.
"Similarly, if we always focus on dragon dances and snacks, people will soon get bored, so we need to introduce the most sophisticated part of Chinese culture to our students," he says. These could include art forms such as poetry and song.
Applicants for the program must meet strict requirements, Zhu says. Candidates are expected to be committed to spreading Chinese culture, able to prove the great potential in their field of research, and already have some Mandarin ability.
Anna Chelnokova-Siejka, 24, from Russia, is one of the joint PhD fellows chosen by the program.
"The reason I applied for this program was that I was deeply attracted by Chinese culture and the Chinese way of thinking. Though I am not yet sure about what kind of work I might do after graduation, I am pretty sure that I will do something related to China," she says.
Chelnokova-Siejka intends to research the effects of culture on the values of young Chinese people. The program gives her exposure to Mandarin materials and the chance to interview Chinese youngsters, which was not possible in Russia.
"European people know little about China, all we know is probably that China is far way, and Beijing is the capital," says Katarzyna Zofia Niemiec, 28, from Poland, a PhD student at Jilin University.
A major in international relations, Niemiec is interested in the study of soft power. She lived in China for three years to learn the language.
"In Poland, few people know Mandarin and there are few Chinese books," she says.
"People have misunderstandings about China. Though the situation is getting better, I feel it is necessary for someone who knows China well to explain to them the real situation here.
"Soft power is about culture and language, a tool a nation uses to influence another nation. It is the core of international relations."
Zhang Xiaohui, director of the Office of Confucius Institutes of Beijing Foreign Studies University, says Confucius Institutes overseas rely on people in those countries.
The university helps run 20 Confucius Institutes in 16 countries.
"As the number of Mandarin teachers from China is limited, it is important to train more people who are willing to help develop Confucius Institutes," Zhang said.
More than 28,000 teachers work for Confucius Institutes worldwide, with 30 percent from China and 70 percent local residents.
Feri Ansori, from Indonesia, has been working for the Confucius Institute at the University of Al Azhar Indonesia.
He was enrolled by Beijing Normal University under the Confucius China Studies Program in September.
"I think the Confucius Institute has greatly reduced the misunderstanding between the people of China and Indonesia. The institute is not only about cultural exchange, it also builds connections on economic and political issues," he says.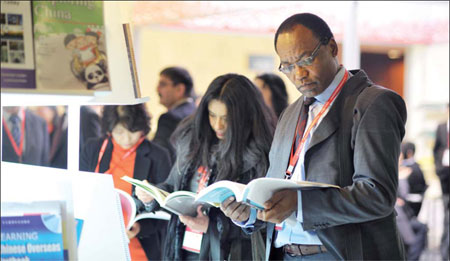 Visitors at the conference look through new textbooks. Provided to China Daily