'Year of the Horse' money unveiled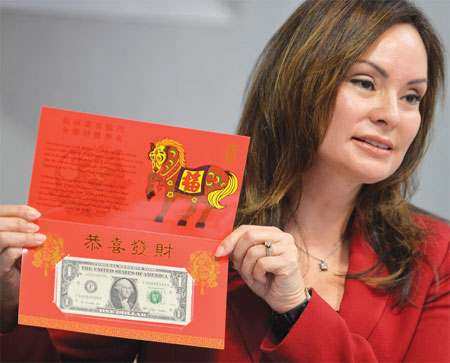 Rosie Rios shows a $1 special note issued to celebrate the Chinese Lunar New Year of the Horse. Zhang Jun / Xinhua
Next year Chinese will celebrate the Year of the Horse, according to the lunar calendar, and the US Treasury unveiled its latest Chinese zodiac product for the event.
On Wednesday, the Bureau of Engraving and Printing (BEP) began selling the latest offering in its Lucky Money product line, a series of uncirculated $1 Federal Reserve notes with the serial numbers beginning with "8888," which are placed inside a red folder with gold foil and embossing.
This year's note - unveiled by Rosie Rios, the US Treasurer, on Tuesday at a press conference in Washington - celebrates the Year of the Horse, which will begin at the end of January 2014.
The number eight is seen as a symbol of good fortune by Chinese, so in addition to the unique "8" serial numbers on the bills, the bureau released a total of 88,888 units of the product.
As of Thursday, most of the units had already been sold out, with some remaining at the BEP visitor center locations in Washington and Fort Worth, Texas, according to a bureau spokesperson.
The BEP released its Year of the Snake note last November and the Year of the Dragon note the prior year, which had the highest number of notes ever printed - 108,888 - and sold out within a week of being released.
The Lucky Money notes have historically sold well, the spokesperson said. The series made its debut in 2000, and the BEP has already cycled through all 12 animals of the Chinese zodiac.
The designs of folders that hold the notes are done internally, according to the spokesperson, though the BEP turns to the Asian community to help develop the visuals. The Lucky Money line, she said, is produced "in honor of the Lunar New Year for the Asian community."
The Year of the Horse 2014 note - which was listed as "temporarily out of stock" on the BEP website on Thursday - was priced at $5.95 each, though bulk orders of 50 to 999 notes cost $4.50 each and orders of 1,000 or more notes cost $3.95 each.
Household purchases are limited to 500 units in the first week of release, but will be lifted on Dec 11, according to the website.
Orders of the Year of the Horse notes can be placed through the BEP's website (www.moneyfactorystore.gov) or ordered over phone (800-456-3408) and fax (202-874-1788), and will be shipped starting Dec 11.