Typhoon Haiyan revives climate compensation row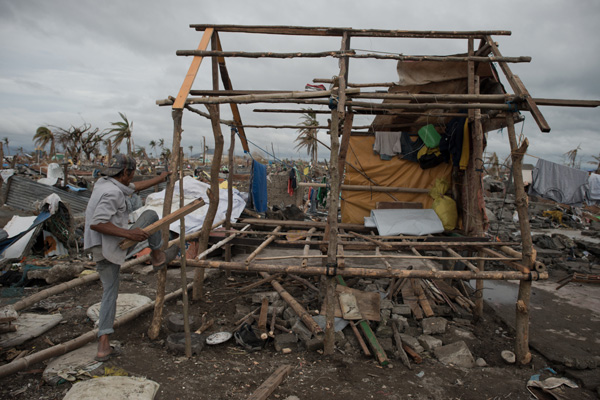 A Typhoon Haiyan victim rebuilds his destroyed home in Tacobian on Wednesday. The United Nations has confirmed at least 4,500 killed in the disaster in the Philippines. Nicolas Asfouri / Agence France-Presse
The devastation wreaked by Typhoon Haiyan has become a rallying cry at UN climate talks, where the Philippines and other developing economies are demanding aid guarantees for future damage they attribute to global warming.
The demand has created another deep fault line in the divided negotiations, as developed economies see it as a potential trap, locking them into a never-ending liability for compensation.
Many of the world's poorest nations are also the most vulnerable to the ravages of climate change, from severe storms to slower-onset effects such as land-encroaching rises in sea level and worsening droughts and floods.
More than 130 developing economies are now calling for an international "loss and damage" mechanism, bankrolled by wealthy nations, to be embedded in a 2015 global pact on climate change.
Environment ministers meet in Warsaw on Wednesday to grapple with climate finance for poor nations.
Developing economies are challenging rich nations to show how they intend to honor a 2009 promise to muster up to $100 billion a year in climate aid by 2020.
Rich economies, say poorer nations, bear historic responsibility for global warming as they started the rush to burn fossil fuels that causes the greenhouse-gas problem.
"The humanitarian support that is happening now in the case of the Philippines is very important ... but at the same time it is also kind of subjective, in that not every country that is affected in the same manner can count on the same support," said Sven Harmeling of the CARE International humanitarian agency.
"As the problem of loss and damage grows, ad-hoc solutions are no longer sufficient."
Among other things, the proposed mechanism should help developing states acquire a technology and knowledge base to mitigate the climate risk and offer financial support to help stricken countries get back on their feet.
An insurance scheme is among the options mentioned.
The issue nearly scuttled last year's round of talks in Doha, Qatar, but the day was saved with a compromise to put in place "institutional arrangements" in Warsaw.
This will be no easy task.
"Codifying loss and damage issues in an agreement could lead to claims of legal liability, which would be problematic, to say the least," said Robert Stavins, director of the Harvard Environmental Economics Program.
For one thing, it is unclear how individual disasters or losses could be blamed on shifting climate rather than random weather events, such as have occurred throughout human history.
Another question is whether a country hit by a climate-related catastrophe may itself be partly to blame by allowing people to live in a risky zone or failing to provide adequate protection or emergency care.