JFK's daughter continues her family's legacy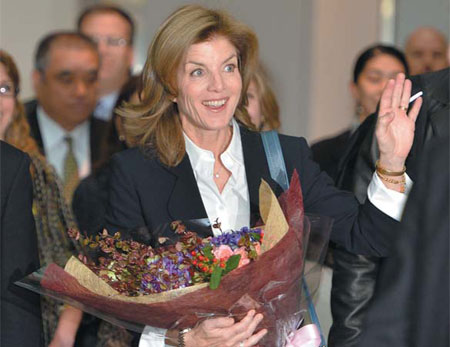 Newly appointed US Ambassador to Japan Caroline Kennedy, daughter of former US president John F. Kennedy, arrives at the Narita International Airport in Tokyo on Friday. Yoshikazu Tsuno / Reuters
Caroline Kennedy, the first female US ambassador to Japan and the daughter of assassinated US president John F. Kennedy, will commit herself to Washington's policies as she assumes her new role, 70 years after her father fought the Japanese in World War II, observers said.
Japanese Emperor Akihito will receive the new US ambassador on Tuesday, and Japanese Prime Minister Shinzo Abe will meet her on Wednesday, Japan's Fuji Television reported.
Critics have begun a heated debate over how the diplomatic novice - an author, former book editor, lawyer and a key supporter of then-US senator Barack Obama's campaign for the presidency in 2008 - will handle the complicated situation in Northeast Asia as well as Japan's rising challenge to its wartime history.
The fate of the Kennedy family was closely connected to Japan during World War II. In April 1943, then-Lieutenant John Kennedy arrived in the Pacific and took command of the torpedo boat PT-109. Only months later, the vessel was rammed by a Japanese ship, killing two of his men.
Before Caroline Kennedy's departure to Tokyo, US Secretary of State John Kerry said it was "pretty remarkable that the daughter of a heroic lieutenant in World War II" will be the first woman in the generation after the war to represent the US in a relationship that "symbolizes so much more than just a normal diplomatic relationship".
"This is a symbol of reconciliation, a symbol of possibilities, a symbol of people who know how to put the past behind them and look to the future and build a future together," Kerry said in Washington on Nov 12.
Fu Mengzi, a researcher of Sino-US relations at the China Institutes of Contemporary International Relations, said Kennedy arrived at a time when the Obama administration has placed an "unprecedented priority" on the US-Japan alliance.
"Currently, Tokyo has been striving to get rid of legislative restrictions imposed by the postwar pacifist Constitution on the country's armed forces. To some extent, Washington has remained muted to this," Fu said.
Japanese media widely covered Kennedy's departure from New York on Thursday and arrival in Tokyo on Friday.
"I am also proud to carry forward my father's legacy of public service. He had hoped to be the first United States president to visit Japan," Kennedy told Japanese reporters in Tokyo.
Li Haidong, a researcher of US studies at China Foreign Affairs University, said Kennedy will "fully implement the instructions" from Obama for the US strategy of pivoting to Asia and boosting the traditional alliance.
"The post was given as a reward for her contribution in the presidential election, and Obama's confidence in her also stems from her reliability in terms of following Washington's strategic considerations," Li said.
Kerry outlined the top priorities of Kennedy's Tokyo post in his farewell speech to her.
"Caroline's going to be heading over there to represent this relationship at a critical time - the rebalanced Asia, the global marketplace and competition therein, the efforts to deal with North Korea to try to reconcile even more so with Seoul, the challenges of the South China Sea, the challenges of climate change and of communications," Kerry said.
Kerry's remarks framed Kennedy's Tokyo agenda, including Washington's deepening role in the South China Sea issue, Li said.
"This also serves as a warning to her to refrain from public comments that cause troubles," he added.
Reporters in Washington also raised questions about Caroline Kennedy's qualifications to take the diplomatic post.
Her new job "does not necessarily mean that Washington will change its policy regarding the Diaoyu Islands standoff between China and Japan," said Zhou Yongsheng, a professor on Japanese studies at China Foreign Affairs University.
"Washington is using the islands to contain China. It is not expecting either an intimate China-Japan relationship or a major conflict between them. I think Kennedy is quite clear about this point," Zhou said.
Mo Jingxi contributed to this story.
Contact the writers at zhangyunbi@chinadaily.com.cn and caihong@chinadaily.com.cn