Fuding savors success in white tea
Once a tribute to emperors, it is now popular for its health benefits, Wang Jinhui reports.
The aroma of white tea fills the air. It is fresh, pure, light and mellow, intriguing tea lovers who wonder about the vast expanse of Dai-bai and Daffodil Bai tea trees that blossom in Fuding.
A center for the production of white tea, the city in the northeast of Fujian province is now marketing its precious natural gift as a luxury that evokes its past glory and brings future prosperity.
Surrounded by sea and mountains, coastal Fuding has a humid climate, fertile land and easy transport. Its white tea trade began some 1,200 years ago.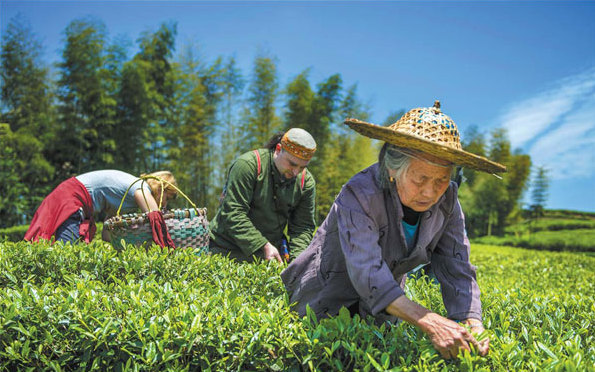 A farmer and foreign travelers pick tea leaves in Fuding, Fujian province. Some experts say white tea is 'the most natural and healthy' variety in China. Photos provided to China Daily
At that time, white tea was considered a royal tribute and treasure for emperors and noble lords.
In the late Qing Dynasty (1644-1911), Fuding's silver-needle tea made from the high-quality harvest of Dai-bai tea trees was exported to some 39 countries and regions around the world.
"Though mainly for export in the past, white tea is today becoming increasingly popular in the domestic market," said Chen Xinghua, chairman of the Standing Committee of the Fuding City People's Congress and leader of the city's Tea Industry Development Office.
"More and more people are shifting their gaze to white tea, especially that from Fuding," Chen said.
"The city is the only place most suitable for planting Dai-bai and Daffodil Bai tea trees nationwide and white tea here has the best quality.
"This unique geographical advantage not only gives Fuding a competitive edge in the market, but also adds momentum to its economic gains," he said.
As a major production and export base for white tea, Fuding's total value of raw tea reached 800 million yuan ($131.14 million) in 2012 and the output from the tea industry totaled 2.2 billion yuan, according to the National Bureau of Statistics.
In the first half of this year, its white tea exports totaled 1,500 tons, up 50 percent year-on-year amid a 15 percent downturn in the whole industry. The 2.69 billion yuan brand value of Fuding's white tea ranks sixth in China.
"What differentiates white tea most from green, black and other kinds of tea are the processing methods and health benefits," Chen said.
"Top-quality white tea varieties are sun dried and carefully tended until they turn grey or silver -it is known as the most original, natural and healthy tea," he said.
There are three steps in making white tea - harvesting the leaves, putting them under natural sunlight and drying at low temperature.
It usually takes around three to four days until the leaves are lightly fermented without being touched by human hands in production. "The procedure seems easy, but in fact it is very stringent in techniques to choose the best weather and time to pick tea leaves at the appropriate humidity and temperature to keep much of the nutrition," Chen said.
Natural medicine
A study from the Nutrition and Food Safety Branch of the Chinese Center for Disease Control and Prevention shows that white tea contains polyphenols, flavonoids and anti-oxidants known to improve the immune system and blood circulation.
Luo Shaojun, a researcher and former director of the National Tea Quality Supervision and Inspection Center, said white tea is a natural medicine for relieving heat and diminishing inflammation, just like ginseng.
"The longer it keeps, the higher nutrition it contains," Luo said, adding that white tea preserved over 7 years is regarded as "valuable treasure".
Zhang Tianfu, a tea expert born in 1910 in China, said he has an emotional bond with white tea. "I drink 10 cups of tea every day, and the best is the white tea from Fuding," said the 103-year-old.
The tea business
Chen said in addition to the health effects that make white tea popular, the development of the industry is also a boon for the local market.
The city's tea cultivation area covers 210,000 mu, or 142,00 hectares. It is now home to more than 40 large-scale tea enterprises and five leading provincial-level enterprises.
Some 380,000 people work in the tea industry, accounting for 65 percent of the city's total employment.
This year, revenues for tea farmers in Fuding are up 30 percent.
A worker who declined to be named at the trading center for white tea in Diantou county, a key production base in Fuding, said the livelihood of farmers in the region has largely improved due to the prosperity of the tea industry.
"In peak season, they may make a profit of 500 yuan per day," she said.
"The government is playing an active role in guiding us to go further by helping enterprises taking part in high-level tea expos and offering financial support and favorable policies."
Chen said the boom in white tea also drives other industries such as packaging, tea food, tea sets, design, cultural industries, advertising, logistics and tourism.
"We hope that local tea enterprises will continue to improve the efficiency of their management models-which are 'enterprises to farmers', and 'enterprises to their own production bases'-to produce the best ecological tea for consumers," Chen said.
"The price of white tea has a huge potential in the market.," he added.