NYC program improves senior Asians' bones
The results are positive.
A two-year exercise program aimed at seniors in largely Chinese communities in New York has helped decrease pain, improve function and enhance the overall health of many of its participants, according to a study.
The New York-based Hospital for Special Surgery (HSS), ranked nationally No 1 in orthopedics by the US News & World Report (2013-14), recently released the results of the program it established at senior centers in largely Chinese communities, including Manhattan Chinatown and Flushing, Queens.
The study - Impact of an Asian Community Bone Health Initiative: A Community-Based Exercise Program in New York City - was presented at the American Public Health annual meeting on Tuesday in Boston.
In 2009, HSS began the exercise program outlined by the Arthritis Foundation for the senior citizens in Chinatown, and from there saw a need to do more outreach in the community.
"We decided to figure out a way that we could expand [the exercise program] and how we could best impact that community," Sandra Goldsmith, director of public and patient education at HSS, told China Daily. "We decided that there should be two aspects of the program: an educational aspect and an exercise aspect."
The resulting program became a four-part bilingual education and exercise series called the Asian Community Bone Health Initiative. Program coordinator Jane Huijuan Huang said instructors spoke in both Chinese and English, and she estimated more than 90 percent of the participants were Chinese.
The Asian senior population in New York grew by 64 percent from 2000 to 2010, and one in four seniors lived in poverty in 2010, according to the HSS report.
"[The Asian older adult population is] more than twice as likely to have no health insurance coverage compared to other major race and ethnic groups," Laura Robbins, senior vice-president of education and academic affairs at HSS, said in a press statement. "Cultural and linguistic barriers limit access to healthcare services."
From November 2011 to September 2013, six eight-week sessions of the Arthritis Foundation Exercise Program (AFEP) and three eight-week yoga exercise classes were conducted by bilingual instructors at four senior centers, two adult daycare centers and a New York public library, with the aim of promoting self-management of arthritis and other musculoskeletal conditions through exercise.
The AFEP sessions offered by HSS instructors consisted mainly of chair-based exercises, and the yoga sessions were beginner level. The overall goal was to help Asian seniors decrease musculoskeletal pain, stiffness and fatigue, as well as improve balance, reduce falls and increase physical activity.
A survey was distributed before and after the exercise classes to evaluate pain, function and other health indicators. Of the 199 participants during this two-year period, 119 responded.
Nearly all the respondents were female and age 65 or older. After the program was completed, 83 percent more participants could bend kneel or stoop; 69 percent more could climb several flights of stairs; 50 percent could lift and carry groceries; 48 percent reported less daily pain; 39 percent felt reduced fatigue; and 30 percent felt reduced stiffness, according to the study's data.
"The study results indicate that the hospital's Bone Health Initiative has a positive impact on the musculoskeletal health of the Asian senior population," Huang said in a press statement. "While further research is needed, HSS will continue to offer culturally-sensitive programs to this community to help seniors stay active, decrease pain and improve their overall health."
Huang told China Daily the program is free and open to the public.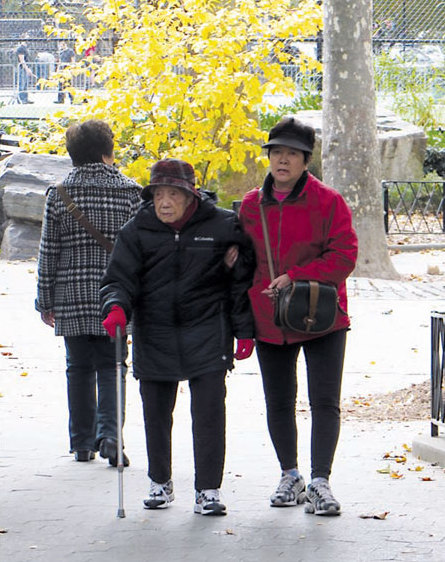 The Asian Community Bone Health Initiative was started by the Hospital for Special Surgery to help the elderly in this demographic increase bone health through education and exercise. Caroline Berg / China Daily