Road safety a top concern at BMW, especially for children
As the father of two boys, Karsten Engel cares deeply about children's safety.
"I know how vulnerable children are and how difficult it is to keep them healthy," said the president and CEO of BMW Group Region China.
"That is why we introduced the BMW Children's Traffic Safety Education program to China nine years ago."
The German luxury vehicle brand recently celebrated the end of its 2013 campaign for child traffic safety awareness in the country.
"The event has become a model of public welfare programs in the auto industry through innovations in form and content," said Engel.
Long an important component of its corporate citizenship, BMW was the first automaker to promote children's road safety education in China.
"Almost 360,000 children in 63 cities have benefited since 2005 and more than 1,000 families registered for a family day event in 2013 alone," said Engel.
"We will continue the program to reach more children and families in the future."
BMW also worked with the Ministry of Education for the fourth consecutive year to distribute 260,000 copies of its traffic safety textbook for school children throughout the country.
This year, BMW's training camps were augmented with a "Sim City" that imitates the real road environment, said Engel.
At the venue children learned about traffic safety while driving a mini BMW electric car, or the importance of a child safety seat by experiencing a 4D seat, or were given tips on first-aid and self-protection by watching the BMW TV series AnAn's Story.
Camps were held in Guangzhou, Shanghai, Chongqing, Shenyang and Beijing, and the length in each city increased from three or five days to seven to benefit more children.
"In daily travel, traffic safety should be put first, especially for children.
That is why we've promoted the program for nine consecutive years.
We hope to improve awareness of traffic safety and influence parents through enjoyable educational experiences so they realize the importance of a safe and healthy lifestyle," said Engel.
BMW also released the new AnAn Junior Campus this year by combining its junior campus program with China's actual needs.
It also shows children the importance of "green travel" and environmental protection.
"We should cultivate children's awareness of environmental protection as early as possible. "Children learn how to classify refuse in the training camps and this is the beginning of environmental protection," said Guo Kai, an official with the National Quality Safety Social Practice Center for School Students.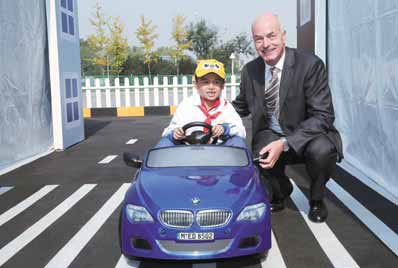 CEO Karsten Engel and traffic safety student at the AnAn Junior Campus. Provided to China Daily