Agriculture expo brings rich yields
A trade fair in Kunming boosts cooperation between China and Southeast Asian countries
Eagles sculpted out of pumpkins glowed golden under the sunlight. Horses cut from taros and a giant pumpkin weighing at least 50 kilograms also surprised visitors to the 9th Kunming Pan-Asia Agricultural Expo, held from Oct 9 to 13.
"The expo was upgraded from a local exhibition in Kunming to encompass many parts of the world, including south, central and southeast Asia. We even invited some businessmen from Africa," Kunming Party secretary Zhang Tianxin said at the opening ceremony. "It aims to promote the agricultural industry and technological cooperation between China and these regions."
More than 700 state-owned companies and private owners in Yunnan rented half of the 1,500 exhibition boxes at the fair. Flowers and indigenous foods proved the most popular with visitors. The Dounan International Flower Park in Shilin Yi autonomous county, has attracted investments worth more than 1 billion yuan ($160 million; 117 million euros) at the expo. Next year, it will be permanently moved to the park.
The other stalls at the exhibition were taken by companies from countries such as Malaysia, Thailand, India and Kazakhstan. The products ranged from coffee to peacock feathers and handmade wooden artworks.
Aiben Shinoy, a businessman from Zambia, brought at least 200 products to the expo. His best-selling items were the handmade wooden sculptures.
"I visit Kunming more than any other city in China," he said. "I have been in China for 10 years and have visited more than 30 exhibitions in Kunming."
The thriving business also brought Shinoy's 14-year-old son Sonmon to China from Africa.
"My father and I believe it's a good place to run our business as the Chinese people want to know more about Africa and local culture," said Sonmon, who speaks Chinese.
The expo also offered a precious chance for some people to display their traditional skills. Shi Jinhui, a 23-year-old cook, made the pumpkin eagles.
"The sculpture took at least one day to make and will start to wither in about three days," he said. "Many restaurants don't like them due to the cost and short time they last, but the technique needs to be passed on. That's why I exhibit here, to attract more attention."
Six of Shi's colleagues also participated in the expo, making artworks with fruit and plants. A giant pumpkin stopped many visitors in their tracks at a stall set up by the Yunnan Academy of Agricultural Sciences.
The academy has six research institutes for tropical plants, tea, sugarcane and honeybees in Pu'er city, Dehong Dai and Jingpo autonomous prefecture, Xishuangbanna Dai autonomous prefecture and Honghe Hani and Yi autonomous prefecture.
"Our agricultural technology is more advanced than that in Southeast Asia, which gives us an opportunity to export seeds and techniques to the area and helps those countries improve their agricultural yields," said Fan Yuanhong, deputy president of the academy.
So far, the academy has established cooperation deals with more than 40 countries and 20 international organizations. Since 2008, the academy has built 11 cross-border cooperative research platforms with Thailand, Laos and Vietnam.
Fan said Yunnan has unique advantages in rice, corn and other agricultural goods. Southeast Asian countries have strong momentum to introduce new breeds that are high-yield and resistant to insects, Fan said.
The yield of rice seeds developed by the academy has increased by 31 percent and sugar cane yields by 33 percent. The academy planted 38 crops on 97,636 hectares in five countries in the Greater Mekong subregion to bring an extra 20 million yuan in profit.
New breeds of corn and rice developed by the Yunnan academy are being assessed by the Vietnamese government and will go on the market soon, according to Fan. Cambodian farmers have grown castor oil plants on 2,000 hectares of land and the number of plants will reach 2 million in five years, according to the deputy president.
"Neighboring countries should build good relations in agricultural exchanges," Fan says. "We will also expand research exchanges with Southeast Asian countries by inviting more scientists from the area. Only in this way, will a win-win situation become a reality."
Guo Anfei contributed to the story.
huyongqi@chinadaily.com.cn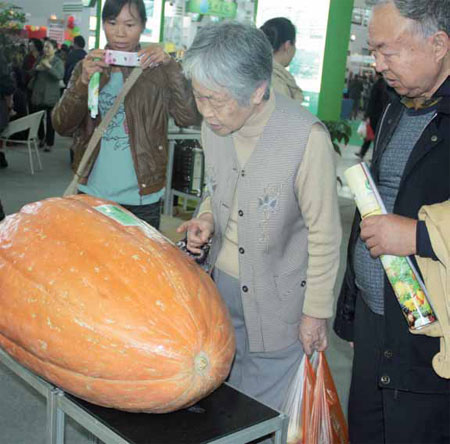 An elderly couple are attracted by the giant pumpkin grown by Yunnan Academy of Agricultural Sciences. Below: Shi Jinhui sculptures an eagle out of a pumpkin at the 9th Kunming Pan-Asia Agricultural Expo. Photos by Hu Yongqi / China Daily