Solar-panel maker uses American sports celebrities in new campaign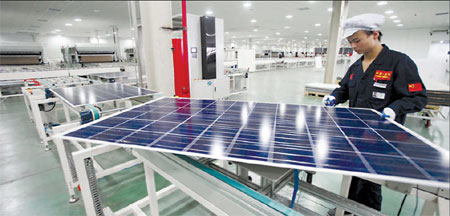 A worker inspects solar panels at a factory of Yingli in Tianjin, Hebei province. Provided to China Daily
The US unit of China's Yingli Green Energy Holding Co is on the ball - soccer ball, that is.
Yingli Green Energy Americas, a subsidiary of the solar-panel maker based in Baoding, Hebei province, is teaming up with US women's soccer star Mia Hamm, and California-based solar-panel installer Verengo Solar, to promote solar energy to homeowners in various US markets.
Hamm and her husband Nomar Garciaparra, a former shortstop with the Boston Red Sox and other Major League Baseball teams, will promote "affordable" home solar systems through radio ads and signs at youth soccer tournaments, San Francisco-based Yingli Green Energy Americas said in a release on Tuesday. Terms were not disclosed.
"Hamm and Garciaparra will encourage consumers to request solar consultations with Verengo by communicating the positive economic, social, and environmental impacts of solar energy, while emphasizing the increased availability of solar financing options that reduce upfront costs for consumers," according to the release. Homeowners who "go solar" will receive an additional $250 in electricity savings, Yingli said.
Helena Kimball, Yingli Green Energy Americas' marketing head, said a goal of the campaign is to "dispel one of the most common misconceptions that going solar is expensive. In fact, through third party financing options, homeowners have the potential to go solar for zero money down".
Hamm's and Garciaparra's message will focus on "their personal experience" working with Verengo and Yingli Americas to install two solar-energy systems for their home, according to the release.
"As parents and athletes, Nomar and I are especially proud to promote solar energy because we believe a healthy environment is the most important legacy we can leave to future generations," Hamm said. "We are pleased to reduce our own carbon footprint and utility bill, and by communicating these benefits to the broader public, we can make an even bigger impact."
Kimball said the company was "confident" that Hamm, as "one of the most widely celebrated female athletes in the US", due to her performance with the US Women's National Soccer team, winning gold in the 1996 and 2004 Summer Olympic Games, will be a "fantastic spokesperson for the solar industry". Four out of five of the nation's largest solar markets "top the charts for attendance at US National Soccer team games," she said. "Youth tournament attendees are predominantly eco-conscious parents and homeowners."
Yingli Solar is the first Chinese and first official renewable energy partner of US Soccer, Kimball said.
PASS (Powering Advancement with Solar and Soccer), a program the company launched in partnership with US Soccer aims to bring "the positive lifestyle benefits of solar and soccer to students in underserved communities", Kimball said. The company donates solar energy systems to areas in need, and educates communities about the benefits of solar," she said.
The announced campaign comes amid challenges in the industry. As of the end of June, the average price of a solar panel had declined 60 percent since the start of 2011, according to the Solar Energy Industries Association, an industry trade group. Chinese solar companies were accused of undercutting the competition through offers of subsidies and inexpensive loans. As the number of imported panels tripled in four years, prices plunged 77 percent.
Kimball said the company is "on track" to capture around 15 percent of the US market this year as analysts predict the US will account for 17 to 20 percent of global demand by 2017.