Huge fires threaten Sydney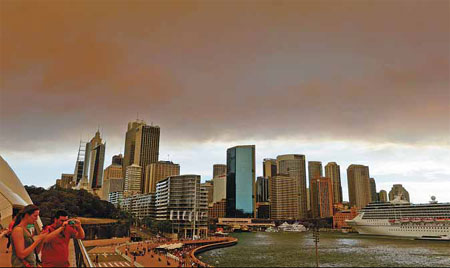 Smoke and ash from wildfires that are burning across the state of New South Wales blanket Sydney's skyline on Thursday. Greg Wood / Agence France-Presse
Firefighters get OK to forcibly evict nearby residents
Australian fire crews were bracing on Sunday for some of the worst conditions in decades as several major blazes threatened to merge into a mammoth fire that could reach Sydney.
More than 200 homes have already been destroyed and another 120 damaged by the wildfires, which broke out across New South Wales state in unseasonably warm weather last week, fanned by extremely high winds.
Authorities warned that high temperatures and winds were likely to keep the fire danger high in coming days.
The worst of the blazes, in the Blue Mountains west of Sydney, plunged the city into an eerie midday darkness last week as plumes of smoke and ash filled the sky.
One man died trying to protect his property.
Three separate infernos continued to burn in the Blue Mountains on Sunday. Grim forecasts of intensifying heat and winds prompted New South Wales Premier Barry O'Farrell to declare a state of emergency, giving firefighters the power to forcibly evacuate people, with penalties for refusing.
"This is not an action taken lightly, ... but it's important the Rural Fire Service and other emergency services have the powers and the resources they need to combat this threat," O'Farrell said.
"We are planning for the worst but hoping for the best."
Officials issued dire predictions about the worsening weather forecasts through to Wednesday, with a fire service spokesman saying there was the "very real potential that these three fires - (one) in Lithgow and the two in the (Blue) Mountains - could form as one fire over the next couple of days".
"We can understand the magnitude of that as it would then creep into the bottom end of Sydney. It's certainly something that we're very concerned about," the spokesman said.
Sydney's suburban outskirts are just across the Nepean River from the foot of the mountains.
About 76,000 people live in the Blue Mountains, and the population of Sydney is 4.4 million.
New South Wales fire service Commissioner Shane Fitzsimmons said several extremely difficult days lie ahead for fire crews, with temperatures expected to soar and dangerously high winds to return.
"We've got what would be unparalleled (conditions) in terms of risk and exposure for the Blue Mountains and Hawkesbury communities throughout this week," Fitzsimmons said.
"If you are to draw a parallel, and it's always dangerous to draw a parallel, at best you'd be going back to time periods in the late 1960s."
"The reality is, however, these conditions that we're looking at are a whole new ballgame and in a league of their own."
A total ban on starting open-air fires for barbecues or other reasons was in place in Greater Sydney and three other regions across the state.
An emergency warning was issued for the Blue Mountains village of Bell, where residents were urged to evacuate due to the imminent threat of fire. Other township residents were told to shelter in their homes or warned that they faced several days of isolation without electricity.
State Assistant Police Commissioner Alan Clarke said mandatory evacuation orders will be enforced in some areas.
"At the end of the day, we hope we have buildings standing, but if we don't have buildings standing, we don't want bodies in them," Clarke said.
AP - AFP