China, Canada seek more energy ties
Xi says the two countries should strengthen economic cooperation
China and Canada promised to promote energy and economic cooperation on Friday, as President Xi Jinping met Canadian Governor General David Johnston during Johnston's first state visit to China.
After an hourhong talk, the two leaders witnessed the signing of three agreements on dialogues mechanism on mineral resources, sustainable energy development and the purchase of three aircraft.
China and Canada should make best use of complementary advantages in economics and tap the potential to strengthen cooperation in fields like energy, resources, finance and environmental protection, Xi told the governor general.
"Energy cooperation plays a very important role in China-Canada economic cooperation," said Jia Xiudong, a senior researcher in international affairs at the China Institute of International Studies.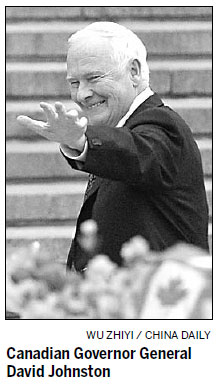 "China's fast development raises its demand for natural resources and Canada is rich in those resources. Canada's future economic development also needs the markets of emerging economies, especially China's."
Meanwhile, China's urbanization offers huge opportunities to Canadian companies and Canada's advanced technologies in development are also needed by China in the process, he added.
Johnston told Xi that Canada hopes to strengthen cooperation with China in various sectors including trade, investment, innovation and energy, adding that Canada welcomes Chinese investment and will make it convenient to do so.
Despite the willingness for energy cooperation, there are still obstacles in this sector, including a stalled pipeline to carry Alberta crude oil to Pacific Ocean ports and the mixed messages about whether Canada is really open to foreign investment from State-owned enterprises.
In July 2012, shareholders of Canada-based oil producer Nexen had already signed off on an acquisition deal with China National Offshore Oil Corp, one of three big Chinese State-owned oil companies.
But it was not until February this year that the $15 billion takeover was completed because the Canadian government extended its review of the case. According to Canadian law, any deal worth more than $331 million to take over a Canadian company requires regulatory approval from the Canadian government.
The Canadian public is worried its energy industry might be threatened by the Chinese government through State-owned companies.
To remove any misunderstanding, Johnston called for more intensified people-to-people exchanges.
In a speech at the Canada-China Business Council's 35th Annual General Meeting and Policy Conference in Beijing on Friday, Johnston, as a former university professor and administrator, said he is delighted to see this commitment to knowledge diplomacy between China and Canada.
Meanwhile, Premier Li Keqiang also exchanged ideas on bilateral cooperation with Johnston on Friday, calling on the two countries to create new cooperative spotlights in agricultural technologies and green energy.
Li also urged the signing of a China-Canada foreign investment promotion and protection agreement.
"The state visit of Governor General David Johnston to China is symbolic of the high-water mark reached in our relationship and it will help to propel it forward even more," Guy Saint-Jacques, Canada's ambassador to China, told China Daily.
"The visit will help to raise interest in the bilateral relationship between both countries and will result in greater people-to-people connections, mutual understanding, increased trade and prosperity."
Contact the writers at qinjize@chinadaily.com.cn and zhouwa@chinadaily.com.cn