CIMC Raffles to deliver latest North Sea drilling rig
Assembly on the upper and lower hulls of a deep water semi-submersible drilling rig built by a Yantai marine equipment manufacturer is now complete, with the rig scheduled to be delivered in the third quarter of 2014.
Called the COSLProspector, it is the fourth of its kind made by Yantai CIMC Raffles Offshore Co, China's leading offshore engineering manufacturer and a subsidiary of China International Marine Containers Group, for delivery to COSL Drilling Europe AS, known as CDE.
Yu Ya, president of CIMC Raffles, said he believes the latest delivery will set new records in the Norwegian North Sea for COSL.
The COSLProspector can work as deep as 1,500 meters undersea. Equipped with a DP3 dynamic positioning system, the drilling rig meets the requirements of the Norwegian Petroleum Safety Administration, the standards of NORSOK and Det Norske Veritas as well as the China Classification Society.
Accreditations for clean operations and winterization on the COSLProspector prove the environmentally friendly platform's ability to perform its functions in low-temperature conditions, said Shao Yongqiang, project director at CIMC Raffles.
Shao said it took 14 months to complete the COSLProspector, 12 months shorter than the previous three COSL rigs.
Jorgen Amesen, president of CDE, said progress on the COSLProspector has 100 percent followed the construction contract, proving CIMC has taken a great step in timely delivery of high-spec drilling rigs.
Li Yong, president of COSL, said "the three rigs currently operating in the Norwegian North Sea have received endorsements from clients - we believe the COSLProspector will strengthen our business in Europe".
In May, CDE was ranked first among leading Norwegian oil company Statoil's 13 drilling subcontractors from last September to March. The ranking was based on indicators for safety, efficiency, performance and equipment integrity.
All three rigs have been endorsed with an AOC certificate from the Oil Safety Administration. Only rigs with the certificate can work in the North Sea, considered the most challenging marine working environment in the world.
In addition, construction on the GM-4D semi-submersible drilling rig North Dragon co-designed by European ocean machine designer Global Marine and CIMC Raffles started in June. It will also be exported to Europe. The rig is able to work in the Barents Sea.
To date, CIMC Raffles has delivered six semi-submersible drilling rigs as well as numerous pipe-laying vessels and self-elevating drilling units.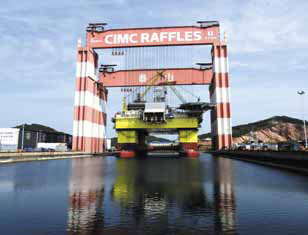 A deep water semi-submersible drilling rig about to leave port in Yantai. Ju Chuanjiang / China Daily