Lang Lang wins yet more accolades
First for Chinese musician in Classic Brit awards
Twelve years ago when the Chinese young pianist Lang Lang performed at the Royal Albert Hall in London for the first time, he was barely known to many in the audience.
Since then, Lang has attained dizzying heights, and is known to millions worldwide, but it was perhaps appropriate that his latest accolade, being named International Artist of the Year, occurred within the terracotta-colored walls of the Royal Albert Hall on Oct 2.
It was the first time a Chinese musician has been awarded the distinction, part of the Classic Brit Awards.
"This is a historic moment for me," Lang, 31, said.
"The UK has always been an important country for my career, because the first time I performed in a Western European country it was in the UK, at the Royal Albert Hall."
Organizers say the award recognizes Lang's global feats as a performer and recording artist, as well as his efforts to increase the popularity of classical music and the piano worldwide.
"His continuing enthusiasm, efforts and performances have helped encourage people of all ages to start playing the piano, and this above all is what we hope to achieve with each Classic Brit Awards event," said Dickon Stainer, president of Decca Records, co-chairman of the awards committee, with Barry McCann, director of Avie Records.
The awards, established in 2000 to honor and recognize all forms of classical music, play a major role in supporting and nurturing talent in both the core and crossover classical worlds.
For Lang's latest release, The Chopin Album, which includes piano sonatas by Mozart alongside Chopin ballads, he was also nominated in the categories of Male Artist of the Year and Classic FM Album of the Year.
At the awards show, Lang and the British violinist Nicola Benedetti performed together for the first time, playing the Armenian folk song Sabre Dance. For the second year in a row Benedetti was named Female Artist of the Year.
Sitting backstage, Lang, in a red suit, fielded questions from a gaggle of journalists confidently and passionately, in Chinese and in English.
Four days after the Brit Awards, the accolades continued when The Chopin Album was named bestseller of the year in the Echo Klassik music awards in Germany, also a first for a Chinese musician.
Lang's thrilling performances have won him fans of all ages worldwide, and he has become one of the planet's most prominent classical musicians.
His performance at the opening ceremony of the Beijing Olympics in 2008 was seen by billions, and he performed at the soccer World Cup in Munich in 2006, the European soccer championship in 2008 and Nobel Prize concerts in 2007 and 2009. He has also performed at Buckingham Palace and the White House.
Lang is generous in attributing his success to others. Apart from his love of music and the time and effort he puts into practice, musical friends have shown him the right way, he says.
"What makes me feel proud is that when I encounter challenges, I'm lucky to have a helpful hand from many people.
"Technique is not a problem in music; many people can achieve good technique like me. But whenever you want to proceed to the next step, it is difficult. Being famous does not make things any easier I have met many masters in the musical profession who have inspired, encouraged and helped me."
Lang's teachers include Gary Graffman of the Curtis Institute of Music Philadelphia, and the pianist and conductor Daniel Barenboim.
Lang says he is lucky to have achieved what he has, and he hopes to spend more time on charitable projects that aim to promote musical education.
"I don't just want to improve myself; I also want to improve the skills and ability of young musicians. I hope that as a musician I can communicate with other great musicians and synergize our passion for music to inspire the newer generation to open their hearts in music and art."
In 2004, Lang was recognized for his efforts by UNICEF, the UN children's fund, which appointed him an international Goodwill Ambassador.
He is an advocate for education through his work with the UN and the Lang Lang International Music Foundation, established in 2008.
The UN's Global Education First Initiative, launched in September last year, aims to put every child in school, improve the quality of learning and foster global citizenship.
"For my foundation we have raised $2.2 million (1.6 million euros), but I want to achieve $10 million over the next five years. We are now helping five schools with musical education, but after five years I want to extend that to 20 schools."
In China, Lang is said to have inspired more than 40 million children to learn to play classical piano, a phenomenon the US TV program The Today Show has called "the Lang Lang effect". But the pianist seems to take that recognition in his stride.
"I don't feel pressure. I just want to do what I do very well."
On top of that, he feels a sense of responsibility, he says.
"When I'm overseas I don't just represent myself, I also represent China, as my fans and compatriots have expectations for me."
He checks his Weibo and Wechat accounts every day to see and hear fans' messages, he says.
To help provide good musical education to talented young Chinese musicians, Lang opened his own school in Shenzhen a year and half ago. It has 200 students aged 3 to 13.
"I want to educate the children and make them excel in music. They perform better now than when they started doing lessons, so I think the systematic teaching at the school has really helped."
The school's pupils have received visits from world-famous musicians, many of them Lang's friends, and the children are given the chance to play music abroad on summer camps.
"I want to play a role to help the children play music on a global stage," he says.
Lang says he has achieved his dreams as a pianist, "but achieving one's dream for one year and achieving it for 10 years is a different thing".
Lang began playing when he was 3, and after two years won the Shenyang Piano Competition and gave his first public recital.
When he was 13 he won first prize at the International Tchaikovsky Competition for Young Musicians in Kurashiki, Japan, and played the complete 24 Chopin etudes at the Beijing Concert Hall.
When he was 17 he was called in as a last-minute replacement for Andre Watts at the Gala of the Century in Chicago, playing a Tchaikovsky concerto with the Chicago Symphony.
The Chicago Tribune hailed him as the "biggest, most exciting keyboard talent encountered in many years".
He has made numerous TV appearances and has featured on news and lifestyle newspapers and magazines worldwide.
"I have achieved my dream for about 15 years already," he says. "But I want to be successfully achieving my dream for 50 years."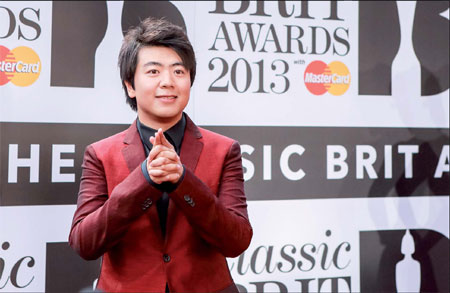 Lang Lang is said to have inspired more than 40 million children in China to learn to play the piano. Xie Songxin / China Daily