Benzema brushes off goal drought
France forward Karim Benzema insisted he is unconcerned about his international goal drought ahead of a friendly against Australia and Les Bleus' final World Cup qualifier at home to Finland.
The Real Madrid frontman has not found the back of the net for his country since June 5, 2012 and was dropped by coach Didier Deschamps for the 4-2 win in Belarus last month that ensured France of at least second spot in Group I.
Although France ended a run of almost nine fruitless hours of toil in front of goal with Franck Ribery's first strike in Gomel, the one filip for Benzema was that at least it wasn't his replacement Olivier Giroud who brought goals to the team.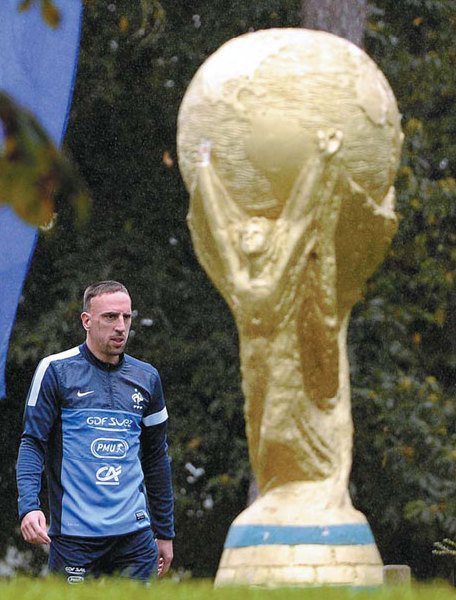 France forward Franck Ribery arrives for a training session in Clairefontaine-en-Yvelines outside Paris on Wednesday ahead of a friendly against Australia and France's final 2014 World Cup qualifier at home against Finland. Franck Fife / Agence France-Presse
Deschamps has refused to reveal which of his two center-forwards will get the nod at the Parc des Princes on Friday in the friendly with Australia, or four days later at the Stade de France for the more important qualifier with Finland, but Benzema says he is treating this situation calmly.
"I'm living this situation very well, I'm not unhappy," he said.
"I want to score, to be better, that's normal. I love football, I love playing, I'm lucky to have had few injuries.
"I cannot say I'm unhappy, I'm just annoyed that I'm not scoring.
"It's a bit harder than previous years but it's part of the career of a top level footballer.You get periods like this; you just have to keep working hard, don't fall into a routine."
Benzema is eager not to turn his current situation into a battle between him and Arsenal forward Giroud, who has been in fine scoring form in the English Premiership this season.
"He's a good striker, he plays well. That's good for us (France). There is competition everywhere, we are here for the team. It's not a match between Giroud and Benzema," said the 25-year-old.
Until his recent dry spell, Benzema had established himself over the past few years as France's undisputed first choice No 9. But he says he is not going to throw his toys out of the pram if he does not start the next two games.
"I'm not demanding anything. I'm in the French team, I'm happy. We're a group, there's no No 1, 2 or 3."