Wingsuit event to pay tribute to veteran flyer
The Second World Wingsuit Championship will open as scheduled on Friday in Zhangjiajie, Hunan province, and will hold a memorial service for Victor Kovats, a veteran wingsuit flyer who died during a trial flight for the competition.
Tian Huilin, deputy general manager of Tianmen Mountain Tourism, one of the organizers of the competition, said on Wednesday that the service will be held "to commemorate the warrior who devoted his life to wingsuit flying".
Kovats was found dead after he plunged into a valley in Tianmen Mountain National Forest Park on Tuesday, rescuers confirmed on Wednesday.
Wingsuit flying is a sport in which people wearing a special jumpsuit - called a wingsuit - fly through the air. A wingsuit flight normally ends with a parachute opening.
In the competition in Zhangjiajie, competitors are challenged to jump 700 meters from cliffs in the provincial park.
Kovats, an extreme sports veteran from Hungary, had completed 700 wingsuit jumps, 1,250 skydives and 250 base jumps. He was the winner of the ProBASE Wingsuit Race 2012 in Stechelberg, Switzerland, and triple champion of Hungary's wingsuit base flying competition.
On Tuesday, a total of 16 competitors took trial flights to prepare for the three-day championship. Kovats was the fourth one to jump.
The incident may be related to a technical error during the trial flight, said competition organizers, but local media reports said it was also possible that a gust of wind derailed Kovats from the planned flight route and that the parachute failed to open.
Tian said the equipment the competitors use is not supplied by the competition's sponsors.
Rescuers retrieved Kovats' body around 9 am on Wednesday at the foot of a cliff that is about 100 meters high. Nearly 200 firefighters and policemen carried out the search and rescue operation, which was made difficult by the area's steep cliffs.
Bela Bathori, lead consul of the embassy of Hungary in Beijing, said embassy officials "have learned of the incident and are looking for details".
The First World Wingsuit Championship was held at Tianmen Mountain last year with 15 flyers from nine countries.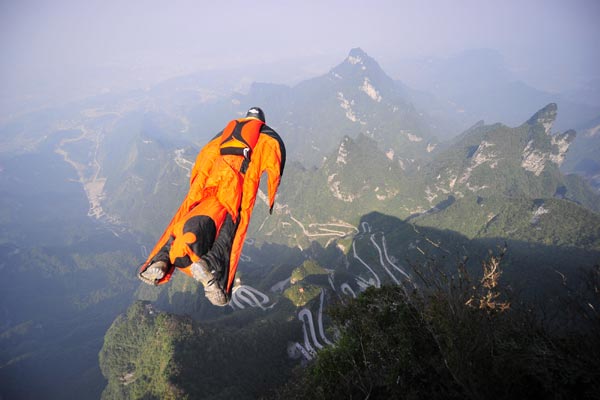 Hungarian Victor Kovats plunges into a valley during a trail flight in Tianmen Mountain National Forest Park on Tuesday. He was found dead in next day. Shao Ying/For China Daily