Chinese investors visit San Jose
Silicon Valley hosted 58 senior executives on Saturday, most of whom are private business owners from the Chinese mainland looking for projects to invest in.
"As students of the post EMBA program with Peking University, we are cautious about capital safety of overseas investment in regards to cultural and language barriers," Xu Nonghe, the managing director of Beijing RZLB Investment Co Ltd, told China Daily at the forum.
He said US governments should explore better ways to promote their cities with investors from China.
"With different cultures and consuming habits, they need to understand what kind of returns most Chinese investors are anticipating on their hefty investment," he said.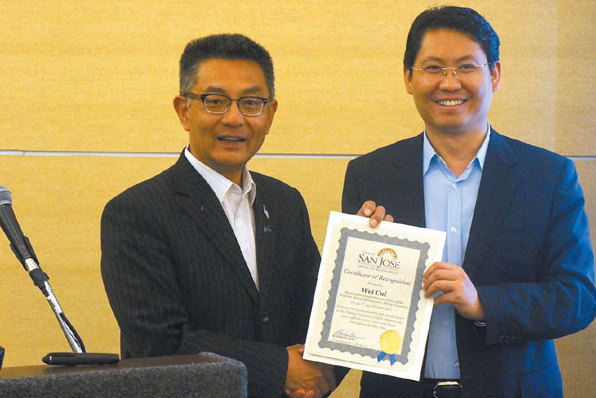 San Jose's Councilman Kansen Chu (left) presents a certification of recognition to Cui Wei, assistant dean of the school of economics of Peking University, on Saturday for his efforts to bring a group of Executive MBA program students at the Chinese university and private business owners from China to invest in the Silicon Valley. Chen Jia / China Daily
The delegation had already visited New York and San Francisco, and their half-month tour will also include Las Vegas and Los Angeles.
Led by Cui Wei, assistant dean of the school of economics of Peking University, the delegation members have also shown interest in such fields as biotech, hi-tech, and energy in North California.
Commercial real estate is another area of interest for them, with some of the potential buyers checking local markets as they traveled from the East Coast to the West.
One third of the 58 members expressed their willingness to purchase real estate.
Jing Bei, a well known anchor woman with China's CCTV, said she is looking for a single family house in a high-performing school district around the Bay Area.
"The weather is good and the environment pleasant. I hope one day my son can study at Stanford," said Jing whose son is now attending a junior high school in Beijing. "By buying a house for him, adapting to the US might go quicker and smoother."
Kidder Mathews, one of the leading commercial property firms on the West Coast, sent five of its employees to meet with the delegation on a wide range of topics including the purchase, tax, insurance and management of commercial properties in the US.
Skip Whitney, executive vice-president and partner of Kidder Mathews, said he is involved with China-related businesses on a daily basis, hosting visiting Chinese groups at his downtown office, shuffling Chinese clients into cellars at Napa Valley and sipping wines with them, or answering questions about E5 immigration, children's education and food safety.
"We are pretty heavy on our China market and business development in China," said Whitney.
Gloria Ortega, the economic development manager of Union City in the Bay Area, said that she is "very much looking forward to the first Chinese trade mission" to visit her city in the near future.
"Union City is a very population diversified place, and Chinese investors would have cultural fit in quickly," she said.
Around 50 percent of local citizens are Asian people and the city communities have about 12 percent of population with Chinese heritage, she said.
She also said "bio-tech" and "food manufacture" in Union City are two major industries for investors from China.
San Leandro's Councilman Benny Lee and San Jose's Councilman Kansen Chu also came for the forum and expressed strong willingness to help Chinese investors find satisfied projects in their cities.