More investment boosts consumption
Economist: Any country that has excessive consumerism is going to have a crisis, huge debt
When Justin Yifu Lin speaks, people tend to listen.
Not only is he one of China's most prominent economists but he was the first Chinese citizen to be appointed to such a prominent international role as chief economist and vice-president of the World Bank.
So when he said recently that "those who advocate that China's economy should rely on consumption are, in fact, pushing the country to a crisis", it caused something of a stir.
His comments seemed to be in marked contrast to the Chinese government's stated aims in the current Five-Year Plan (2011-15) and other policy statements for the economy to be led more by domestic consumption and not be over-reliant on exports and infrastructure investment.
"That is not exactly right. It should be 'potential crisis'," Lin says about the quote, although he doesn't retract his central message.
Lin, a very fit looking 60-year-old, was speaking away from the late spring Beijing heat in his office within a sheltered courtyard at Peking University, where he is an economics professor and honorary dean of the National School of Development.
"Any country that has excess consumerism is going to have a crisis and have huge debt," he says.
"That is why the US has a huge trade deficit and China has huge trade surpluses."
He believes any attempt to boost consumption in a short time frame could be disastrous and lead to the same debt problems as in the West today, but he doesn't think that is on the government's agenda.
"I think the Chinese government is quite pragmatic and I don't think it will hand out money or that the banking sector will encourage consumer loans and those kind of things. I don't think that will happen."
His views, however, have sparked a renewed economic debate in China as to whether the country needs to fundamentally adjust the economic model that has made it the world's second-largest economy from nowhere in just 30 years following reform and opening up in the late 1970s.
The key elements of that model have been the export of inexpensive manufactured goods, and investment in infrastructure and heavy industry that have transformed the country's landscape.
It came under pressure when the financial crisis led to a slump in Western demand for Chinese manufactured goods and then when local governments reported heavy debt in 2011 following heavy spending on infrastructure and real-estate projects.
Lin, soft-spoken and modest despite his eminence in his field, does not believe that China has to now throw out the model that has served it well, insisting that countries don't fall "into crisis because of over-investment".
"People say that China should change the structural model in order to maintain growth. People have been preaching that for more than 30 years already.
"I don't think infrastructure is a wasteful investment. When I came back from my trip (his four-year stint in Washington at the World Bank), I saw the whole country had been transformed by the improved highway system and high speed trains. It will dramatically reduce transaction costs in China."
He argues that investment is actually the key to driving sustainable levels of consumption in China and not any sort of weakness, and that the focus on investment has led to consumption growing by around 9 percent a year for the last 30 years - more than anywhere else in the world.
"I think it is the wrong diagnosis. If we look at the growth model of any developing country or, in fact, any country, if they want to make consumption sustainable, it needs to increase labor productivity. The way to do that is through technological innovation and industrial upgrading, which require investment."
He argues that if China had focused on consumption and not investment in its development stage, the ultimate result would have been lower growth and also - somewhat perversely - lower consumption.
"Suppose consumption in China had grown by 10 percent and investment 9 percent and not the other way round, growth might have been 7 percent and not 9.9 percent and there would therefore be less consumption because the economy would have been smaller."
Lin is renowned on the Chinese mainland for leaving the Taiwan army at 26 and somehow swimming 2 kilometers across tidal waters from the island of Kinmen to the mainland to begin a new life.
He had already received an MBA degree from National Chengchi University in Taipei and he then went on to do his doctorate in Marxist political economy at Peking University.
The first Chinese citizen to receive a PhD in economics from the University of Chicago, he then founded and became first director of Peking University's China Center for Economics Research, one of the country's leading economics think tanks.
He moved to Washington in 2008 to be the first person from a developing country to be chief economist of the World Bank. He is also the author of 24 books, including his latest, Against The Consensus: Reflections on the Great Recession, which will be published by Cambridge University Press in June.
In it, he warns that Europe and the United States could now face a "new normal" of the same two-decade long protracted economic crisis as Japan has had since the 1990s.
"I think it is very likely they are now going to grow very sluggishly because they have to have structural reforms but they cannot carry them out, just like Japan. They need to create space for such reforms. They need to have investment."
In the book, he says Western countries could navigate out of their trouble by following a similar path to China after the Asian financial crisis of 1997-98 and invest in "bottleneck-releasing" infrastructure investment projects both in their own economies and in those of developing countries. This could prove a much needed catalyst for global growth, according to Lin.
Despite his World Bank background, he doesn't go along with the prevailing Washington Consensus ethos that only free market reforms lead to economic development.
"It is a very ideological approach. It basically says that if you want to move across from a government-led distorted economy to a free market economy, you need to do it in one step and carry out a whole package of reforms."
As such he does not believe Chinese state-owned enterprises should be privatized, as many advocate as part of the modernization of the economy.
"All the state-owned industries in Eastern Europe and the former Soviet Union were privatized but their productivity declined. So I don't think ownership is the issue. Private monopolies can be worse than state monopolies. You need to have fair competition.
"Take Russia, for example, you have an oligopolistic situation in eight heavy industries that used to be state-owned. So I think this is also the wrong diagnosis."
Lin says the biggest challenge for China is to avoid the so-called middle income trap in which many developing countries have previously got stuck in because they have failed to invest and not failed to consume.
"The reason for the middle income trap was that they did not continue to increase labor productivity, and invest in technological innovation and industrial upgrading."
He makes clear that he is not against consumption and he is confident that China can reach the official high income status criteria of $12,000 per capita income by 2020 if it doesn't veer in the wrong direction. By then, he argues, there will be enough spending in the economy.
"For me consumption is always the result of growth. I have no objection to consumption being increased but it can only come from income growth and for that you need increases in productivity realized by investment," he says.
Contact the writers through andrewmoody@chinadaily.com.cn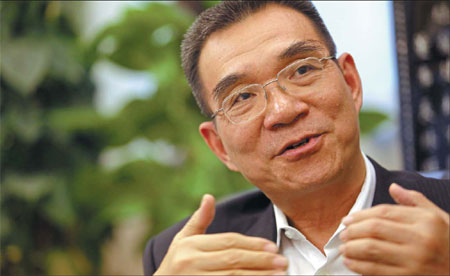 Justin Yifu Lin, former chief economist of the World Bank, says he does not believe Chinese state-owned enterprises should be privatized. Liu Zhe / China Daily