Young ambition leads to vintage service
South African restaurateur seizes the day in China with wine and food from home
The kitchen buzzed with bonhomie, pots and pans clattered, and food sizzled and hissed in that secret language known only by the master chef.
Amongst the organized chaos, the staff at the newly opened Pinotage restaurant and wine bar in the Sanlitun district of Beijing turned the dinner rush hour into something almost graceful in its execution.
At its center, Amber Deetlefs directed her employees with a hard-edged confidence that belies her youth.
Clearly visible through a pane of glass that separates the kitchen from the dining area, South African-born Deetlefs is likewise transparent about her success in China, and her ambitions.
While creating food and offering a fine dining experience is a passion for Deetlefs, it is not her only venture. She and business partner Toby Cao also import the biggest range of South African wine into China.
At an age when most of her friends back in South Africa are just beginning their careers, 25-year-old Deetlefs has already made her mark in Beijing.
She has no formal business qualifications, but is often held up as a model entrepreneur and asked to guest lecture South African business students, many older than her.
She has little in the way of formal cooking qualifications and never aspired to be a chef, but her Sanlitun restaurant is the second she and Cao have opened in Beijing.
Deetlefs says she now wants to play a role in fundamentally altering the way Chinese consumers drink wine, and lead the way in changing the culture of wine service in Beijing.
Food and wine, she says, have always been woven into the cultural makeup of her family, but as a child growing up in Johannesburg, she never dreamt of becoming a chef or an entrepreneur.
Deetlefs says her calling found her in Beijing after her father, who worked in mining, convinced her to relocate to China with him in 2007.
"At that stage, I had no concept of what China was and what it was all about," she says. "It wasn't something that you thought about. You think about China and you think it's where things are made. You don't think about the place itself."
Just out of high school, Deetlefs was 18 when she arrived in Beijing and enrolled in a Mandarin course.
As chance would have it, her father's company had a stake in a South African winery. Her now business partner Cao happened to be importing their wine into China.
Deetlefs, who sensed opportunity, had the South African connections and an easy way into the lucrative expatriate market in Beijing. Cao had the know-how to negotiate the business end.
Partnering up, they imported a few sample cases from a range of South African wineries, and set up a taste-testing table at a South African embassy event. The level of interest stunned Deetlefs.
"My dad funded the first container," she says. "I remember it arriving at the house. A full container is 13,830 bottles. We had boxes stacked to the ceiling.
"We moved that wine in a couple of months. It was basically direct distribution, word of mouth, no advertising. We just sold boxes from the house directly to South Africans and a couple of Europeans.
"My dad said 'This looks like it's going to be a serious business, you better get your stuff together'."
Her business partner Cao, 43, says even as a teenager Deetlefs had a drive and maturity well beyond her years.
"When she wants to do something, she wants to be the best," he says.
In 2008, with cash to spare after the first successful shipment, Deetlefs decided to open a tasting and sales outlet. The location she liked in an area popular with expats had a kitchen. That was how she ended up opening her first restaurant and pairing South African wine and food for the first time in Beijing.
"I'd always loved to cook, but I'd never even been a waitress. I couldn't carry a cup of tea without spilling it. I thought I could bring in some talent, some chefs, and teach them some traditional South African recipes." And that's what she did.
By the end of the first week, the restaurant was packed with customers.
"I didn't know what to do with myself. I don't know how I got through it, but I did, we did. Since then I've never left the kitchen."
Business boomed during the Beijing Olympics and demand for South African wine grew. She and Cao opened the Sanlitun restaurant earlier this year, and they now import more than 165,000 bottles of wine every year.
Cao claims while they are not the biggest importers of South African wine to China in terms of volume, they bring in the biggest range.
"The other importers have maximum of 10 labels from three wine cellars," he says. "We have more than 100 labels from more than 20 different wine cellars."
Almost all of the wine is sold at their two restaurants, a decision Deetlefs says she made with an eye to the future.
In the lucrative Chinese wine market, South African wine sales are miniscule compared with the figures being generated by established foreign brands. Chinese Customs statistics in August suggest that in the first half of this year South African wine accounted for only 1.8 percent of imported wine - a veritable drop of the 300 million bottles that Chinese wine drinkers drink a year.
With China tipped to increase its wine consumption by more than 50 percent by 2015, Deetlefs says her sales strategy, aimed at maintaining control over quality and price, will hopefully help her business and South African wine snatch a bigger piece of the pie.
She said it was "damaging" to the brand when retailers sold inferior quality wines from South Africa at exorbitant prices.
"A wine we would sell for 180 yuan ($29.40) you could pay 380 yuan for at another place."
Wine expert Jim Boyce, the founder of popular blog Grape Wall of China, says Deetlefs and Cao have built a loyal following in Beijing based on quality products and reasonable pricing.
"I haven't seen a bigger range of South African wines from anyone else," he says. "It's pretty spectacular."
Deetlefs also bucks the trend in the way she chooses to serve her in-house customers. In Beijing, the norm for restaurants is to sell wine by the bottle with only the cheapest house wine offered by the glass.
"We give you the opportunity to try by the glass at least two wines from every single range," she says. "People like to try and buy."
And it's no longer just foreigners popping in. Deetlefs says a lot of "younger" local Chinese now visit her bar - a shift in consumer habits in a country where not so long ago wine was purchased primarily as a gift or to drink at formal occasions.
Deetlefs urged other young South Africans to look to China, but said learning the language and the culture first was a must.
She says her success to date has been largely down to seizing opportunities and backing them up with hard work. And most people will drink to that.
josephcatanzaro@chinadaily.com.cn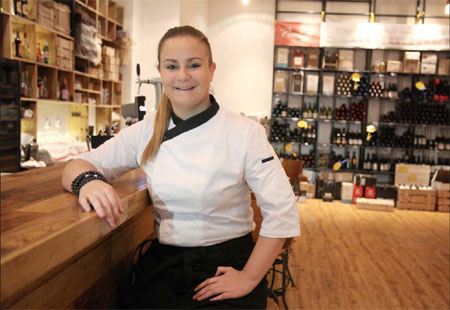 Amber Deetlefs has no formal business qualifications, but is often held up as a model entrepreneur and invited for guest lectures. Wang Jing / China Daily