Courting tennis culture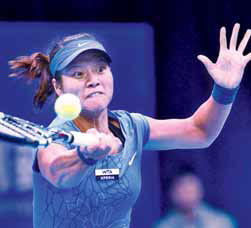 China's No 1 tennis player Li Na's success has inspired more Chinese to pick up the sport. The world No 5's popularity has also boosted the China Open's profile. Wei Xiaohao / China Daily
The China Open's meteoric rise in international stature has led to soaring national interest in the sport, Sun Xiaochen reports.
Nobody took China Open tournament director Alfred Zhang seriously when he declared a vision during the event's 2004 debut to make it the "fifth Grand Slam".
But he meant what he said. And others are starting to find it increasingly likely, as the China Open has surged from obscurity to become Asia's largest tennis competition and has given oomph to the sport's development in China.
"It might be an unrealistic goal in the near future, but it should be the direction we are supposed to go," Zhang told China Daily before this year's tournament.
"It's the motivation that drives us forward."
But a decade ago, few could imagine the China Open could join the ranks of the Australian Open, French Open, Wimbledon and the US Open.
Initially, China's small tennis fan base, a lack of traditional involvement in the sport and its limited expertise in operating such tournaments did not bode well for ambitions for the China Open to reach such a caliber. Tennis also lacked the public adoration and media exposure of such sports as basketball and soccer.
At the 2004 event's final news conference, then Women's Tennis Association chairman and CEO Larry Scott joked there was a 100-year gap between the China Open and Grand Slam events.
That jest would not fit today. The event has become the world's largest combined men's and women's tennis extravaganza in terms of attendance and prize money.
That is largely because China Open Ltd continued to sustain ambition and optimism, Zhang said.
A major advancement came in 2009, when the women's competition became one of four WTA Premier Mandatory events and the men's joined the Association of Tennis Professionals' World Tour 500 series.
The prize money totals $7.5 million this year - roughly seven times the 2004 offer - and men's and women's title winners can respectively bag 1000 and 500 ranking points.
Last year's event lured 270,464 spectators. And more are expected this year, the organizing committee said.
"We are running on a fast track, but every step we've made was pretty solid and foresighted," Zhang said.
WTA Asia Pacific's managing director Peter Johnston said he is impressed by the tournament's rapid development.
"The progress has been enormous in only 10 years," he said.
"With the growth in the first 10 years, it is incredibly exciting to think of how good this event will be in the next 10 years and the years ahead."
Former ATP World Tour PR and marketing manager Stephen Duckitt said: "Representing a lot of other growths in China - not only in tennis, in all sorts of industries - China Open has just kept pace with other businesses. And I think that's a testament for the Chinese Tennis Association to identify that it was a great way for China to demonstrate itself on the global stage through sports."
A favored destination
Prize money, ranking points, Chinese culture and Beijing's scenic spots are the attractions that lure star players.
This year's event has brought the top 47 women's players, including local favorite Li Na and 17-time singles major winner Serena Williams. Male superstars, such as Novak Djokovic and world No 2 Rafael Nadal, squared off, too.
"The player list is the testament to how well the tournament runs," said Duckitt, who joined China Open last year as a senior branding, marketing and players services consultant.
"From what I hear with ATP, China Open does have a good reputation among the players."
He believed facilities and player services are key to players' positive feedback.
When the China Open's status shot up in 2009, it relocated from the suburban Beijing Tennis Center to the National Tennis Center used in the previous year's Olympics. In 2011, organizers built the Diamond Court - the main venue with a retractable roof and 15,000 seats - on the site.
World No 4 Agnieszka Radwanska, who claimed the women's singles title in 2011, said: "It's the Olympic site, so everything is big enough and it's very comfortable. There are a lot of practice courts as well, which are very important for the players."
Duckitt said the main area for future improvement is providing more detailed player services.
Customized nutrition, flexible sightseeing itineraries and in-room birthday celebrations are available at the players' hotel, which offers athletes suites with full views of the Beijing Olympic Park.
"Then the players are falling in love with the event and the experience of playing in the fabulous city of Beijing," Johnston said.
A generation's inspiration
The China Open also provides opportunities for local talents to hone their skills against the world's best while inspiring public participation.
When world No 37 ace Peng Shuai entered her first match at the maiden China Open, the then 18-year-old had no clue what later life on the WTA Tour would be.
A decade later, Peng has become a star veteran, a Grand Slam winner - she was doubles champion with Chinese Taipei's Hsieh Su-wei - and one of the tour's most recognized Chinese faces.
But she has not forgotten where it all started.
"I sort of grow up with the tournament," said Peng, who has participated every year since.
"It bridged us to the professional tennis world at home. I'm so proud that I never missed a single year."
Peng is just one of many players in her generation who gained confidence and improved shots at the tournament while developing ambitions of climbing the professional rankings.
China Open's 10-year development has also seen Li Na, Zheng Jie and Yan Zi deliver breakthrough at Grand Slams.
Inspired by the event's success, the Chinese Tennis Association hopes to bring new tournaments, such as the Shenzhen Open in January and a Premier 5 competition in Wuhan next year, to hone young talents with international drills and national exposure.
"The China Open has been connected with the game's overall development, especially the jump of Chinese players' levels, since its inception," CTA chief Sun Jinfang said.
"Honed by the match-up with high-level international stars at home, Chinese players have become more mature and consistent on pro tours. The tournament has also enhanced the game's influence in the country."
Starting next year, there will be seven WTA Tour events held on the mainland, including the Guangzhou International and three new lower-tier tournaments in southern China.
Li, who won the 2011 Roland Garros, said new events in China could pave new players' paths to professional tennis.
"They will have more chances to challenge the world's best and see how they play than we had in the past, which is a big motivation for them," the world No 5 said.
The China Open also introduced an affiliated event, the Beijing International Challenger, which features entry-level competitions, in 2010. It is intended to be a steppingstone for youth to the professional stage.
The WTA praises such initiatives.
"The China Open inspires future generations to play and experience the game," Johnston said. "With this growing base of players, more champions like Li Na will be sure to emerge."
Public participation
The 2004 Athens Olympic women's doubles gold victory of Chinese players Li Ting and Sun Tiantian inspired nationwide enthusiasm for tennis. But the annual China Open has kept it alive since its simultaneous inception.
National Day holiday visitors to the National Tennis Center can enjoy such promotional activities as mini fan matches, autograph signings and carnivals - activities much like those at Australia's Melbourne Park and New York City's Flushing Meadows.
Affordable tickets also contribute to the event's popularization of tennis in China. They cost as little as 10 yuan ($1.6), and day matches among the world's best at the Diamond Court are available for as little as 100 yuan.
"It's really worth the money to be able to watch such high-level tennis and experience the gala activities during the tournament," said fan Shi Lei, who booked 10 tickets when sales started in July.
In 2009, the China Open introduced its annual amateur competition, the China Open Rating Tournament, which grades participants into three levels and organizes national contests in seven cities.
Such efforts coupled with Chinese players' inspirational world tour performances have driven the governing body and private investors to pay more attention to tennis' grassroots development.
Tennis Magazine reports 10 professional tennis academies operate in China in addition to local sports bureaus' training facilities. And the number of amateur clubs has soared since Li's Grand Slam victory.
Tennis promoter and Beijing International Group CEO Tom McCarthy said: "As great international players began playing in the China Open regularly, awareness of tennis as a great, fun, healthy lifestyle sport really increased rapidly. Parents see the past of China's history and the present success of Li and Peng, and truly believe that their own children can do the same.
"China Open keeps the dream alive in the eyes of the Chinese fans annually. So I would say that the tournament plays a vital role in the continued development of tennis in China."
Since 2006, McCarthy has led his company to cooperate with the CTA to promote the year-end China Tennis Grand Prix.
Another outgrowth of the sport's popularization is Chinese spectators' improved etiquette.
China Open tournament director Zhang recalls foreign umpires had to learn how to say "please be quiet" in Mandarin during the first event, when the crowd would cheer loudly for local players during rallies.
A watershed moment arrived during the 2008 Beijing Olympics when Li furiously told boisterous fans to "shut up" when they cheered during rallies.
But Chinese spectators are now generally silent during rallies and cheer passionately for both players after points.
"If someone does the wrong thing, it's not the stadium or tournament staff telling him. He will be told by other fans. It shows how mature the tennis market has become from the etiquette perspective," Duckitt explained.
Zhang said: "It's unbelievable that the public's understanding of the game has changed so much in just 10 years. Tennis culture has stood on its own in China, which makes us proud of our job."
Contact the writer at sunxiaochen@chinadaily.com.cn.