Microsoft shifts tablet plans for China
In a shift from last year's China-first marketing plan, Microsoft's new Surface tablets won't be made available until after their release in the US and elsewhere.
At a launch event in New York City on Monday, Microsoft unveiled two new second-generation Windows 8 Surface tablets - the Surface 2 and the Surface Pro 2 - which will be available for preorder starting today, be on sale at retail stores in 21 countries starting Oct 22, but won't hit China until early November.
Compared to the recently released iPhones that Apple made available simultaneously in the US and in China, Microsoft is not releasing their new Surface tablets at the same time in China. A Microsoft spokesperson said only that "We are taking a measured and phased approach to the availability of Surface in order to meet customer demand and partner expectations, however, we have no further details to share today".
The Surface 2 starts at $449 for the 32GB model and the Surface Pro 2 starts at $899 for the 64GB model. In China, the Surface 2 and the Surface Pro 2 will start at 3288 yuan ($537) and 6588 yuan ($1,076), respectively.
Analysts say that Microsoft's delaying the China launch might not necessarily mean the company is deprioritizing the country. Rhoda Alexander, director of tablet and monitor research at marketing consulting firm IHS iSuppli, said that she doesn't anticipate this will hurt Microsoft in China.
"The key market for China from a consumer perspective is to get in there in time for Chinese New Year," Alexander said. "The traditional western holidays - Christmas, Hanukah - those are less critical to the Chinese market." Fourth quarter sales are important in places like the US and Japan, she said, but for China, the first quarter is the priority and the later sale date won't hurt.
Alexander said it's more important for Microsoft to plan a launch carefully, making sure they have enough product to meet the anticipated demand, and to "be able to penetrate the channels they've chosen in significant enough volume".
Microsoft ran into difficulty with its initial launch of Surface tablets last year with a confusing Windows 8 operating system, which Alexander said didn't help in a market already dominated by Apple's iOS and Google's Android systems.
In addition, compared to the low-cost products available, Microsoft's wares are still premium commodities, she said. "The price competitiveness has gotten very vicious in that market. Even though these products reflect more aggressive pricing than Microsoft had in their initial offering, they are still premium products," said Alexander.
Based on estimates from research firm Analysys International, at the end of August, tablet sales in China reached 3.58 million in the second quarter of 2013, a 50 percent increase over the 2.34 million in sales in the same quarter last year. Apple's market share "declined significantly", as Android sales continued to climb, the report said. Microsoft Surface did not help to increase Window's market activity.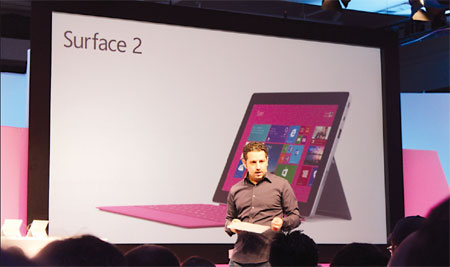 Panos Panay, corporate vice president at Microsoft Surface, giving an introduction of the new Surface 2 tablet, announced at a launch event in New York on Monday. Amy He / China Daily