China foreign minister at UN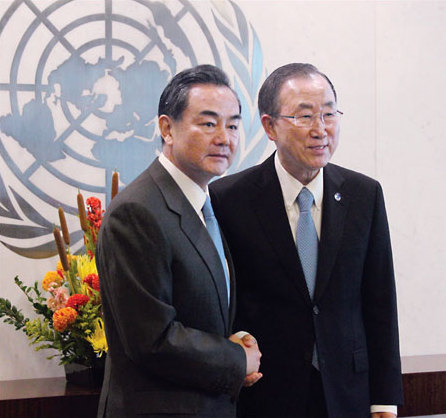 Chinese Foreign Minister Wang Yi (left) meets UN Secretary-General Ban Ki-Moon on Sunday morning. Wang is in New York for the 68th session of the UN General Assembly, and will speak at the General Debate on Friday. Hu Haidan / China Daily


As Syria looms, it's official's first appearance at the world body
Chinese Foreign Minister Wang Yi met with UN Secretary-General Ban Ki-moon on Syria and development issues at UN headquarters on Sunday morning, kicking off his participation in this week's 68th session of the General Assembly in New York.
The foreign minister stressed that China supports the UN - as the most universal and representative international organization in the world - for playing an important role in defending world peace and development issues.
On Syria's chemical weapons, Wang said at present it is important for the international community to reach consensus on the issue as soon as possible and for the UN Security Council to send out a message of unity.
Wang said that China is in favor of the Organization for the Prohibition of Chemical Weapons (OPCW) carrying out its work in an objective, fair and professional manner and is willing to send experts to join the process of inspecting and destroying Syria's chemical weapons.
The destruction of Syria's chemical weapons and the political settlement of the Syria issue, Wang added, should be advanced in a parallel fashion.
In a joint press conference on Thursday in Washington, US Secretary of State John Kerry said China could play a "positive, constructive" role at the UN on a resolution to rein in Syria's chemical weapons.
"With negotiations ongoing at the Security Council, we look forward to China playing a positive, constructive, important role," said Kerry.
Jon Taylor, a political science professor at the University of St Thomas in Houston, said these meetings Wang has held about Syria in Washington and during the GA shows that China will "attempt to address the issue".
Taylor said China recognizes that "it is the permanent member of the Security Council who will ultimately shape and determine where a resolution to the Syrian crisis goes".
"It was an important step holding talks with Kerry and Wang Yi," Taylor added.
Zhu Zhiqun, a professor of political science and international relations at Bucknell University, thinks that China will serve as a "moderating force" on some international issues including Syria.
"In principle China opposes a military solution to international crises and prefers political and diplomatic dialogue," said Zhu. "So while China and the US may share some objectives in the Middle East and elsewhere such as establishing peace and stability in conflict areas and promoting development globally, China's approach will sometimes be visibly different," he added.
During the Sunday meeting, Wang and Ban also discussed topics including the situation on the Korean Peninsula, Afghanistan, and climate change.
On development issues, the Chinese foreign minister said as the theme of this year's UN General Assembly, development is very import for all countries in the world - especially the developing nations.
He said China believes that sustainable development should be pursued with a view to eradicate poverty and promote development, with a focus on balancing the three pillars of economy, society and environment.
Wang said China's firm stand in taking the road of sustainable development not only benefits the 1.3 billion Chinese people, but also complies with the directions of global development.
It's Wang's first time attending the general assembly - where he is scheduled to speak on Friday - since he assumed his post as foreign minister in March. On the sidelines of the Assembly, he will have a number of bilateral meetings with his counterparts from other nations.
Last Friday, while visiting Washington, Wang made a speech at the Brookings Institution pointing out the world's two largest economic superpowers must prioritize their cooperation in Asia-Pacific affairs and start building their new type of "major-country" relationship.
"Wang is an urbane and experienced diplomat who can explain China's policy skillfully," said Zhu.
"We have never had the strategic intention to challenge, let alone replace, the US' position in the world," Wang said. "We have never thought about pushing the US out of the region. Rather, we hope the US will play a positive and constructive role in safeguarding peace, stability and development in the Asia-Pacific."
Wang called on the US to respect China's interests and concerns in the region. He first mentioned the Taiwan question, saying it concerns China's sovereignty and territorial integrity.
Observers have pointed out US arms sales to Taiwan have long been a destabilizing factor in Sino-US relations. And Wang believed gradual integration will ultimately lead to reunification, as the cross-Straits relationship has been better than ever, with vast improvements starting in 2008.
"For many years, the Taiwan question has been a liability in China-US relations that undermines mutual trust and disrupts cooperation," he said. "However, if the US can go along with the prevailing trend of peaceful development of cross-Straits relations, and genuinely appreciate and respect China's efforts to oppose separation and achieve peaceful reunification, the question - once a liability and negative factor in our relationship - will be turned into an asset and a positive factor."
Xinhua contributed to the story.