Duke opens school in China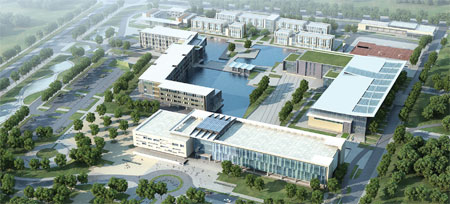 An artist's rendering of the Duke Kunshan University campus. Provided to China Daily
China's Ministry of Education has finally given the thumbs-up to a long awaited plan by North Carolina-based Duke University to open a joint venture, degree-granting campus in Kunshan, Jiangsu province next year.
The new campus, which will be called Duke Kunshan University(DKU), will be under a partnership between Duke, China's Wuhan University and the city of Kunshan, which lies between Shanghai and Suzhou. DKU is set to open its doors in the Fall 2014 and initially offer both graduate degree programs and undergraduate courses.
"The programs that will result in a Duke degree are Master's in global health, management studies and medical physics," said Nora Bynum, vice-provost for DKU and China initiatives. "For undergraduate, there will be a global health module of four courses."
The target student population for DKU, according to Bynum, will be 50 percent students from China and 50 percent from outside of China, with 20-25 students recruited for each master program and 75-100 students for the undergraduate module.
The tuition fees for Chinese students have yet to be announced, but "international students should expect to pay an international tuition that is similar to what Duke charges international students in the US," Bynum said.
Wuhan University, which was founded in 1893, is ranked among the top 10 comprehensive institutions in China. Bynum said the reason Duke is working with Wuhan is because both institutions see internationalization and globalization as important parts of their development.
"We both have the same dedication to making DKU a world-class university," she said. "I think it is the shared sense of mission and perspective that is important."
China sends more students to the US than any other country. In the last academic year, Duke University enrolled 886 students from China - 122 undergraduate and 764 graduate and professional students - making China the country of origin of the largest number of international graduate students there.
Michael Schoenfeld, vice president for public affairs and government relations at Duke University, believes that having a campus in China gives Duke a presence in the world's second-largest economy.
"Duke has become increasingly popular in China, and we see interest from students in all parts of the country," Schoenfeld said. "While we already have a robust range of exchange, research and study abroad options in China, DKU provides Duke with a home for educational innovation and conferences that will help extend our visibility and presence in the country."
The president of DKU will be Liu Jingnan, a former president of Wuhan University, and the executive vice-president is Mary Bullock, a scholar of US-China relations. So far, more than 50 faculty members from Duke University are scheduled to teach in Kunshan for one semester from 2014-15. The permanent faculty spots at DKU will open to candidates from around the world.
"DKU is a global university that will welcome students from China, the US and the rest of the world," Schoenfeld said.
yuwei12@chinadailyusa.com