Japan must cease islands provocations, China warns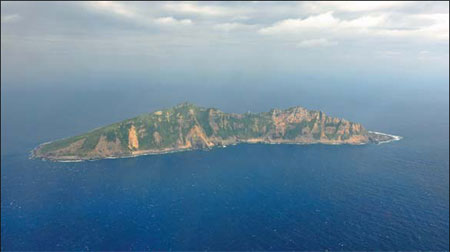 The Chinese Foreign Ministry expressed "grave concern" on Tuesday over Japanese Chief Cabinet Secretary Yoshihide Suga's remarks on the Diaoyu Islands, stressing that China will not tolerate actions that violate its territorial sovereignty. Xinhua
Editor's note:
One year ago, the Japanese government unilaterally announced it would "nationalize" China's Diaoyu Islands, and dragged China-Japan relationship into a deadlock. China Daily reporters in Beijing and Tokyo focus on the current islands situation and reactions from both sides.
Beijing vowed "zero tolerance" on Tuesday for any escalation by Japan that infringes on China's territorial sovereignty over the Diaoyu Islands in the East China Sea.
The remarks by a Foreign Ministry spokesman came in response to comments by Japanese Chief Cabinet Secretary Yoshihide Suga, who said earlier on Tuesday that stationing government personnel on the islands was one option being considered by Tokyo to assert its territorial claim.
"If the Japanese side deliberately resorts to provocations, it must shoulder all the consequences," spokesman Hong Lei said in Beijing on Tuesday.
Last year, the Japanese government announced it would "nationalize" part of the Diaoyu Islands, a move Beijing condemned as a major provocation. China has since beefed up patrols in the waters off the Diaoyu Islands to reaffirm its sovereignty.
"China's determination and strong will to safeguard sovereignty of the Diaoyu Islands is unswerving," said Hong, who called on Japan to stop further provocations and take tangible steps to resolve the conflict.
Ruan Zongze, vice-president of the China Institute of International Studies, said the expanded patrols have been effective as a countermeasure against Japan's provocations.
"The past year has witnessed China's aircraft patrolling the islands for the first time. Chinese patrol vessels have also managed to disperse Japanese vessels that were illegally operating or staying in the waters," Ruan said.
On Tuesday, a fleet from the China Coast Guard patrolled the islands, which Beijing described as a "regular operation" to exercise the nation's jurisdiction.
Liang Yunxiang, a professor of Japanese studies at Peking University, described the China-Japan relationship as "icy". He said much needs to be done before relations thaw, despite a recent informal talk between the leaders of the two countries.
Both nations have shown that they want to improve relations, but Liang said "neither of them has made any concessions on the sensitive issues."
Under the Shinzo Abe administration, Tokyo has played the victim in the controversy over the Diaoyu Islands. In July, the Japanese government called China a threat in a review of its long-term defense guidelines.
It also wants to expand its military with proposals to incorporate amphibious and pre-emptive strike capabilities into its defense forces. The proposals are part of a defense review ordered by Abe, with final proposals due by December.
Japan's defense ministry will request 4.82 trillion yen ($48 billion) in next year's budget allocation, up 3 percent from the previous budget. It will be the biggest budgetary increase for defense purposes in 22 years.
The ministry's spending plans for the next fiscal year include research on unmanned high-altitude surveillance planes and tilt-rotor aircraft with a focus on remote islands. Purchases of these aircraft are tentatively planned for next year.
Lu Yaodong, director of the department of Japanese diplomacy of the Institute of Japanese Studies at the Chinese Academy of Social Sciences, said Japan is building up tension on the islands in order to become "a greater maritime power".
"Japan is trying to contain China and restrict China's lawful maritime presence," Lu said.
Japan's coast guard is also requesting bigger budgets to recruit more personnel and build new ships. The nation has also been befriending countries that have territorial disputes with China, such as the Philippines.
In his June trip to Manila, Japanese Defense Minister Itsunori Onodera said Japan will help the Philippines in dealing with its territorial row with China in the South China Sea. The Philippines' Foreign Ministry revealed that Japan promised to offer 10 new patrol vessels to help secure the seas.
Abe has been lobbying Southeast Asian countries to boost maritime cooperation with Japan and has repeatedly referred to the so-called China threat, Lu said.
"Such a move has seriously damaged China-Japan relations and the security environment in the East Asian region," he said.
Contact the writers at zhangyubi@chinadaily.com.cn and caihong@chinadaily.com.cn