Hamilton, Alonso see their title hopes fade
Lewis Hamilton wrote off his Formula One title chances for another year on Sunday and then, ever the racer refusing to give up until mathematically forced to, had a rethink.
"Obviously that's that for the championship," he told reporters after finishing a hard-earned ninth for Mercedes in the Italian Grand Prix that he had won last season for McLaren.
"I blew it in qualifying and it was impossible to catch up.
"The radio failed in the race and I didn't know what the hell was going on. I missed my pit stop by quite a few laps. It was a disaster of a weekend," he said.
Speaking separately to British reporters later, after a debrief, the 2008 champion put some distance between his earlier comments even if his previous assessment still looked valid enough.
The Briton remains third overall but now 81 points adrift of Red Bull's triple champion Sebastian Vettel, the winner in Monza, with seven races remaining worth a maximum of 175 points.
"When I got out of the car I was angry, and definitely thought that would be it," he said in the Mercedes motor home, his pet bulldog Roscoe snoozing and snoring on the floor nearby.
"But I've been back with my engineers and I'm not going to give up.
"I basically need to win every race, which is the tallest order ever, but I can do nothing but try."
Ferrari's Fernando Alonso also admitted he needs a generous slice of good luck - and for Vettel to run into trouble - if he is to have any chance of stopping the German winning a fourth consecutive world title.
The 32-year-old Spaniard finished second behind the 26-year-old German, but trails him by 53 points.
Vettel drove to his sixth win of the season but Alonso has not won a race in his Ferrari since the Spanish Grand Prix in early May.
Alonso said: "I think for the championship, we need to be realistic now.
"It's still a very big gap and we don't have enough races and probably don't have the speed right now to win some consecutive races.
"We need to be lucky and we need to have some DNFs (Did Not Finish) from Seb, or something, to win the championship.
"With the races left, and the points disadvantage, it is hard."
He insisted, however, that he was not abandoning hope.
"Last year, it was the same. It was difficult for him to catch up and it was up to us - we didn't complete the job.
"Instead, we had one DNF in Suzuka and other problems.
"So, there is still a long way to go. We will try until the last race to be as good as we can and score as many points as possible.
"And then in Brazil we will see how many points we have compared to this."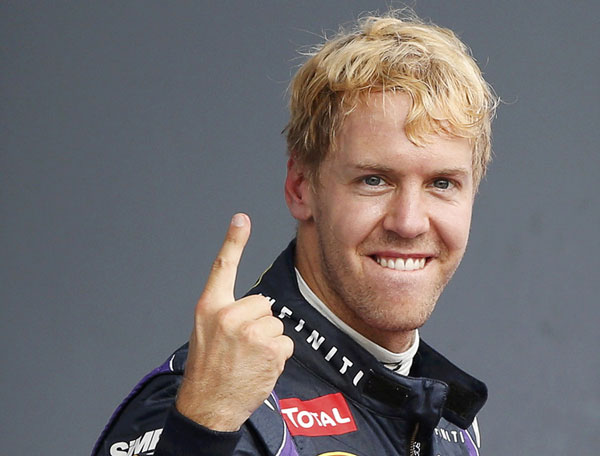 Red Bull Formula One driver Sebastian Vettel of Germany celebrates winning the Italian Grand Prix at the Monza circuit on Sunday. It was his 32nd career win and third at Monza. Stefano Rellandini/Reuters