Li Na on a roll in Open, will face Serena next
Chinese tennis star Li Na advanced to the US Open women's semifinals on Tuesday with a 6-4, 6-7(5), 6-2 victory over 24-seed Russian Ekaterina Makarova at Flushing Meadows.
After top-seeded Serena Williams beat 18-seed Spaniard Carla Suarez Navarro in their night match on the same day, Li will face Williams in the semifinals.
This is Li's best personal achievement in the US Open to date. Also, it is the first Chinese player to make it to the US Open semifinals. Li was the 2011 French Open champion.
Charles East, president of Lincoln Terrace Tennis Association, said he was not surprised to hear Li's great news.
"I've kept a close eye on Li since last year's Australian Open. She is one of my favorite players," said East.
East said that it wasn't just Li's tennis skills that attracted him, but also her personality.
"I watched several of her interviews on TV, she has a nice personality and speaks English very well," said East. "She is such an asset to the US Open."
The news of Li beating Makarova also raised cheers among Chinese audiences.
Zhou Qi, a 46-year-old Queens, NY resident, said the game was too exciting to watch.
"I am so glad I was here to witness such a big step in Chinese tennis history," he said.
Zhou said he purchased dozens of tickets for the finals in advance, and now he feels one step closer to his dream of seeing Li win the championship.
"I wish Li good luck, so I can take my family and friends to cheer her on in the finals," he said.
Li is not the only Chinese player getting attention at the US Open this year.
In an earlier match on Aug 28, 30-year-old Zheng Jie upset two-time US Open champion Venus Williams in the second round of play.
Delayed by the rain, the match lasted for more than three hours. Zheng landed 74 percent of her first serves in a dramatic 6-3, 2-6, 7-6(5) win over Williams.
Two days later Zheng's dream run came to an end when she was stopped by Carla Suarez Navarro.
Other than Li Na and Zheng Jie, there are 13 other Chinese players in the US Open this year - three men and 10 women. For most of them, it was their first time.
East said there would be more and more Chinese tennis players like Li and Zheng reaching the top levels in the future. "I enjoy the diversity that Chinese players bring to the game," he said. "The US Open is no longer just for certain countries."
haidanhu12@chinadailyusa.com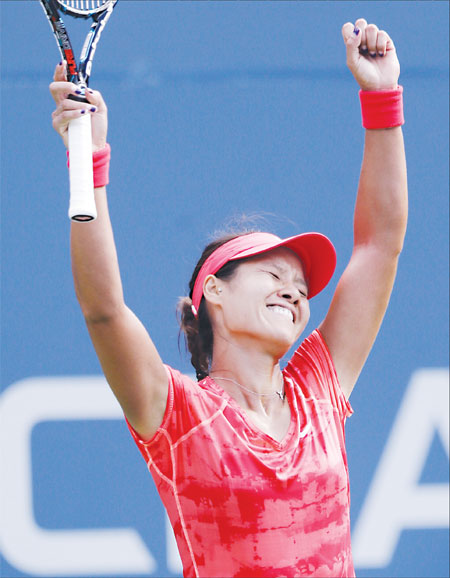 Li Na, of China, reacts after beating Ekaterina Makarova of Russia during the quarterfinals of the 2013 US Open tennis tournament, Tuesday, Sept 3, in New York. Julio Cortez / AP