Softer service sector weighs on economy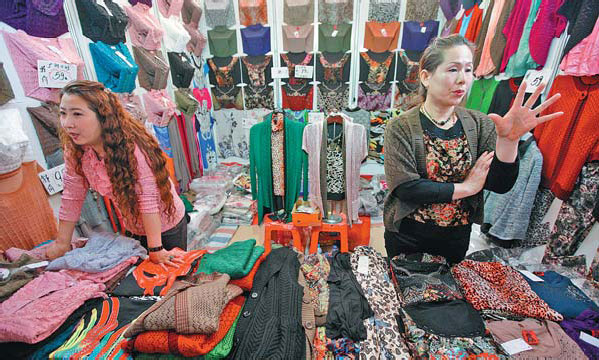 The index for new orders in the non-manufacturing sector rose to 50.9 in August from 50.3 in July, but the export sub-index sank to 49.6, compared with 53.1 in July, showing continued weakness in overseas demand. Xie Zhengyi / For China Daily
Non-manufacturing business activity moderated in China last month, with the Purchasing Managers' Index coming in at 53.9, down from 54.1 in July, official data showed on Tuesday.
The overall figure was depressed by a softer service sector, where the PMI slid to 52.5 from 53, according to the National Bureau of Statistics and the China Federation of Logistics and Purchasing.
Conditions in the construction industry improved last month, as shown by a PMI that rose to 59.5 from 58.5.
Despite the overall weakening last month, the official PMI has stayed above the 50-threshold since November 2011. A reading above 50 means expansion .
Cai Jin, vice-chairman of the CFLP, said that the non-manufacturing economy is "stable and sound", as demonstrated by the PMI.
An increase in new orders in August indicates support for non-manufacturing activity in the coming months, Cai said, and there's been an obvious improvement in employment conditions.
Conditions for smaller companies have brightened as well, Cai said.
The index for new orders in the non-manufacturing sector rose to 50.9 from 50.3 in July.
However, the exports sub-index sank to 49.6, compared with 53.1 in July, showing continued weakness in overseas demand, the NBS said.
Analysts said that the primary growth momentum will still come from domestic demand this year, and the short-term economic downside risk has eased.
They also noted that both the official PMI and the PMI released by HSBC Holdings Plc showed evident improvement in August, with an expansion of new orders, indicating stronger industrial activity.
Within about the past week, several financial institutions have raised China's full-year GDP growth forecasts amid signs of recovering industrial production and investment.
JPMorgan Chase & Co said that GDP may expand 7.6 percent this year, compared with the 7.4 percent it forecast previously.
Wang Tao, chief economist in China at UBS AG, said that other economic indicators for August set for release soon are expected to confirm that "Chinese economic growth has continued to recover".
"We expect both export and domestic demand to have improved, property construction to have remained in solid growth territory, and industrial production to have grown by almost 10 percent," Wang said.
Wang said that the macroeconomic policy stance is likely to remain "largely unchanged" in the next few months, as the government finalizes the reform package to be unveiled in the upcoming Third Plenum of the 18th Communist Party of China Central Committee in November.
UBS AG has forecast GDP growth of 7.5 percent for both the third quarter and full year.
Economists hope that the Third Plenum, can put forward an important economic reform package that will bolster the short- and long-term growth outlooks.
"Government and fiscal reform is likely to be at the core of the package," said Stephen Green, chief China economist at Standard Chartered.
"We think that the implementation of reforms in 2014 and 2015 will significantly improve China sentiment," Green said.
chenjia1@chinadaily.com.cn