Federer wants to foil naysayers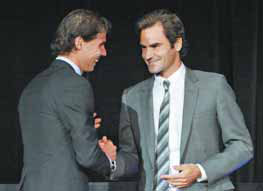 Rafael Nadal (left) and Roger Federer attend the ATP Heritage Celebration at The Waldorf-Astoria on Friday in New York City. D Dipasupil / Getty Images / AFP
After falling to seventh in rankings, struggling Swiss ace hopes to renew his rivalry with Nadal
Roger Federer plans to prove doubters wrong at the US Open despite having fallen to a seventh seed, the 17-time Grand Slam's champion's lowest US Open spot since 2002.
The 32-year-old Swiss star will open on Monday night at Arthur Ashe Stadium against Slovenian Grega Zemlja in the hope of bouncing back after a second-round exit at Wimbledon - his earliest Grand Slam ouster since winning his first slam title in 2003 at the All England Club.
"The rankings, they fluctuate a lot, especially if you don't play so well," Federer said. "If you play great you move up or go down rather quickly."
Federer sees his ranking fall as only a small stumble.
"No 7 I don't think is a huge drop from No 4, but people are going to say what they like," he said.
"What's important is that I concentrate on my game and that the passion is there, that I work the right way, that I'm prepared, and then that I feel like I can win a tournament. Then the ranking actually itself is secondary."
With only one title in his past 14 slam starts, Federer has seemed more like a victim of Father Time than the superstar who once dominated the sport.
"Federer is having, results-wise, probably the worst year in probably the last 10 years," said world No 1 Novak Djokovic.
"It is unusual to see that he's No 7 after being so dominant and so consistent every year in last 10 years, always being one or two in the world.
"You can't always expect somebody to be at the highest level. It's normal to go up and down. That's why this sport is so very demanding, physically, mentally, emotionally."
Retired legend John McEnroe also doubts Federer has what it takes at this stage in his career to win seven matches at a Grand Slam event.
"He is so great that it's going to be mentally difficult for him to deal with what his results have been this year," McEnroe said.
"I don't see, at this stage, him being able to go through all seven... At this stage it's going to be quite, quite difficult for him to win another (Slam)."
Federer could face second seed Rafael Nadal in the quarterfinals. The two icons of tennis have never played at a US Open.
The Spaniard owns a 21-10 career edge over Federer and a 4-2 career lead in US meetings that includes quarterfinal wins this year at Indian Wells and Cincinnati on Nadal's way to titles in both events.
"I think it's an exciting draw really with Rafa being nearby," Federer said. "Plus we have never played here. I really hope from my side that I can make it.
"Clearly when I come here I don't just look at trying to make quarters, you know. I'm clearly here trying to win the tournament, but it starts at the very beginning and that's Monday."