PetroChina eager for reform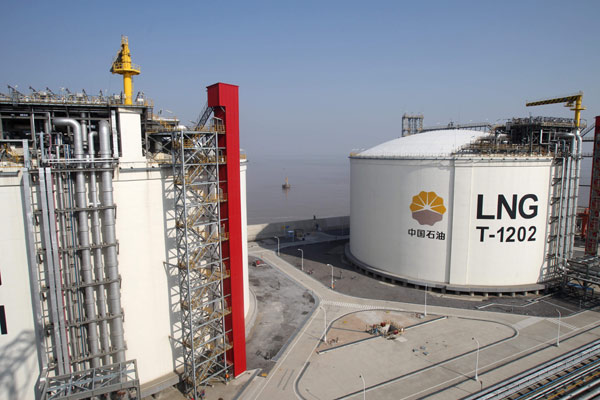 PetroChina Co Ltd is pushing the government to raise the price of natural gas as soon as possible, which would help the company generate an additional 10 billion yuan ($1.63 billion) in the second half. Provided to China Daily
Energy giant expects to see profit boost from changes in pricing policy
PetroChina Co Ltd, the nation's leading oil and natural gas producer, said on Thursday it expects a 20-billion-yuan ($3.3 billion) annual profit boost from the government's natural gas price reform.
That inflow will further buoy the State-owned company's natural gas business, which saw a surge in first-half profit.
The National Development and Reform Commission, the top economic planning agency, said last month it would raise the government-set wholesale price of natural gas by 15 percent to a national average of 1.95 yuan per cubic meter.
Wang Dongjin, PetroChina's new president, said the company is pushing the government to raise the price as soon as possible, which would help PetroChina generate an additional 10 billion yuan in the second half.
The higher price will only apply to non-residential users. Wang said that household prices won't change, for now.
Even with the price hike, domestic natural gas will still be cheaper than imported fuel. Liquefied natural gas shipments into Asia are running at about 50 US cents per cubic meter.
"A marketized natural gas price is without a doubt good news for PetroChina," said Wang during a news conference in Hong Kong, after reporting a 5.6-percent first-half profit increase to 65.5 billion yuan.
Revenue in PetroChina's natural gas and pipeline business increased 7.7 percent in the first half, to 105.6 billion yuan, on higher demand.
PetroChina explained in its statement that the increase reflected higher natural gas sales and shipments. Strong demand from urban residential consumers also played a part.
Crude output grew 2.6 per cent to 464.2 million barrels. Natural gas production rose 8.1 per cent to 1.4 trillion cubic feet.
PetroChina's share price closed 0.81 percent higher in Hong Kong trading on Thursday at HK$8.68 ($1.12). The shares have fallen about 20 percent this year, amid a 3.4 percent drop in the benchmark Hang Seng Index.
PetroChina will boost shale gas production this year. It aims to raise the percentage of shale gas to its total gas production to 20 percent by year-end.
Total shale gas production will reach 1.5 billion cubic meters. PetroChina started to raise shale gas production after Beijing last year decided to offer a subsidy of 0.4 yuan per cubic meter to shale producers.
gaochangxin@chinadaily.com.cn