Is China really ready for Napa's higher-end wines?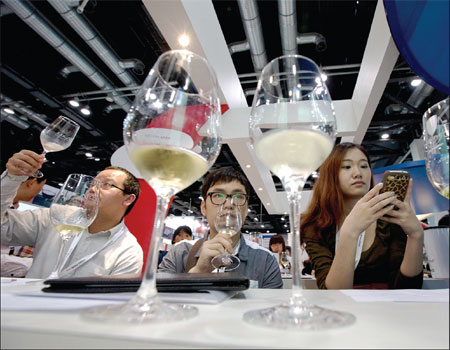 Visitors to a wine expo attend a tasting session for French wine in Beijing in June. Wine makers and exporters in California are trying to increase their share in the world's most populous and increasingly key wine market. Ng Han Guan / AP
As the newly affluent Chinese have become consumers of vintage wines, California wine makers are not only eager to tap into the demand, they're also eager to get a foothold in the fine wine market in China.
Family Winemakers of California, a trade association of more than 500 family-owned wineries, and Stonebridge Research Group, a leading research firm for the wine industry, have been awarded a $369,292 grant from the US Departmentof Agriculture to help sell California fine wines in China.
"Most of the wine producers in California are small, family-owned producers of handcrafted, fine wines - some of the finest wines in the world," said Barbara Inselpresident of Stonebridge. "Many wine consumers in China are not aware of these wines, of their history, exceptional quality or the people who have devoted their lives to making them.
"That is what we are trying to change," she said. "To help Chinese wine consumers, and those who import and sell wine, to learn about, experience and appreciate the fine wines from our family producers."
As leader of the project, Insel recently spent four weeks traveling across China. "We have completed our draft assessment and are awaiting approval by the USDA to proceed with specific plans for the next phase of the project, to be executed in the winter," she said.
The initiative is part of the Emerging Markets Program that launched by USDA's Foreign Agricultural Service, which "helps US organizations promote exports of US agricultural products to countries that have - or are developing - market-oriented economies and have the potential to be viable commercial markets," said Ellen Dougherty, deputy director of public affairs at the USDA's Foreign Agricultural Service.
US wine exports - 90 percent of which come from California - reached a record $1.43 billion in sales last year, a 2.6 percent increase from 2011.
On the Chinese mainland, 2012 sales of American wine totaled $74 million, up 18 percent from the previous year, according to the San Francisco-based Wine Institute. The Chinese mainland is now the fifth-largest export market for California wines.
But even though the quantity is there, Golden State vintners are hoping the quality of their wines can be more appreciated in China.
To achieve that goal, one key component of the project is to develop a curriculum.
"Unlike many other producing countries, we have not had a large formal wine education program in China, a place where we have huge surpluses of wine we need to export," she explained, adding that she and her team have asked the Culinary Institute of America to adapt its 3-Day California Intensive course into a multi-level certification program for China.
"We are particularly interested in training wine educators who will then deliver the classes across China themselves, so we can reach many more people," Insel said.
The Chinese market is extremely price sensitive, but Insel believes the Golden State wine should be sold at fine wine prices because of its high quality.
"Industry experts in China described the tiers of wine in China as: up to $50, from $50 to $130 and $130 and above. Today, the market expects most California wines to sell in the lowest tier," Insel said. "Given the costs of making these handcrafted wines, it is impossible for them to sell at such prices. Many of these wines sell out at home at prices in the highest tier."
Although the mid-tier - $50 to $130 - is the least active segment of China's market, Insel noted it is a price segment that is economically reasonable for many of their wines.
"We have no illusions that this will be easy," she said. "The only way we know how to win a wine customer's heart is to tell them the stories - about handcrafted world class wines, about the people who make them, the places and the history and its intimate connection to the soil, the people and the place.
"We believe they will realize that these wines are not only great value but highly prestigious," she said.