Egypt's Islamists vow new protests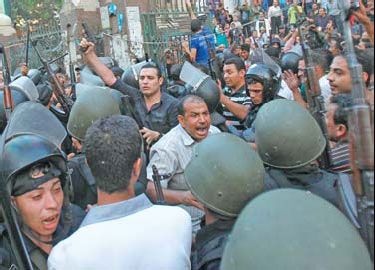 Egyptian security forces escort Muslim Brotherhood members through supporters of the interim government installed by the army from the al-Fath mosque on Ramses Square in Cairo on Saturday. Amr Abdallah / Reuters
Supporters of ousted Egyptian president Mohammed Morsi announced new demonstrations on Sunday as the country grew increasingly polarized and the death toll in four days of violence topped 750.
The fresh protests come after a violent standoff between Islamists and security forces at a mosque in central Cairo on Saturday that briefly turned the area into a battleground.
Security forces traded fire with gunmen inside the al-Fath mosque before eventually dragging protesters outside, where angry mobs awaited them, chanting "terrorists".
The Interior Ministry said 385 people inside the mosque had been arrested, and the government gave new death toll figures that brought the number of dead in four days to 751.
Despite the violence, the Anti-Coup Alliance of Morsi supporters said they would hold several rallies in Cairo and elsewhere.
The announcement suggested there was no end in sight to the street confrontations that have gripped Egypt since Morsi's ouster.
There was renewed speculation that the government would move to ban Morsi's Muslim Brotherhood, although the military-installed interim presidency appeared to dismiss the idea.
"We're not into the effort of dissolving anyone or preventing anyone" from taking part in politics, presidential adviser Mustafa Hegazy said on Saturday.
Morsi was deposed by the military on July 3 in what his supporters call a coup, but his opponents deem a popular uprising like the one that overthrew then-president Hosni Mubarak in 2011.
The ouster and the subsequent bloodshed have drawn mounting international criticism.
On Saturday, Germany and Qatar jointly condemned the "brutal violence", and United Nations chief Ban Ki-moon urged "maximum restraint".
Their criticism came as security forces surrounded the al-Fath mosque in Cairo's Ramses Square, where Islamists were sheltering.
They had entered the mosque a day earlier, turning it into a makeshift mortuary for dozens of protesters killed on Thursday.
At first, security forces tried to persuade the protesters to leave, but by Saturday afternoon, the situation turned violent.
Police traded fire with gunmen inside the mosque, leaving bullet holes in its minaret.
Eventually, they dragged Islamists from the mosque, firing in the air to keep at bay angry civilians armed with sticks and iron bars who tried to beat the protesters.
On Saturday afternoon, the government said 173 people had been killed in 24 hours, in addition to 578 killed on Wednesday, when police cleared two pro-Morsi protest camps.
Among those killed on Friday was Ammar Badie, a son of the Brotherhood's spiritual leader Mohammed Badie.
Prime Minister Hazem el-Beblawi, who leads the military-backed government, said that authorities had no choice but to use force in the wake of recent violence.
The Interior Ministry said it had arrested 1,004 Brotherhood "elements" during the unrest, and on Saturday, security sources said the brother of al-Qaida chief Ayman al-Zawahiri, who planned to bring in armed groups to provide support to those holed up inside the mosque, had been detained.
"We had to take measures to confront terror against the people," Foreign Minister Nabil Fahmy said.
But international criticism mounted.
On Saturday, British Foreign Secretary William Hague called his Egyptian counterpart to express London's "condemnation of all acts of violence, whether disproportionate use of force by the security forces or violent actions by some demonstrators".
The US embassy in Cairo said it would stay closed on Sunday, a working day in Egypt, citing the possibility of fresh demonstrations nearby.
But the international response has not been uniformly critical. Saudi Arabia and Jordan said they backed Egypt in its fight against "terrorism".
AFP-AP