Relatives will benefit from visa change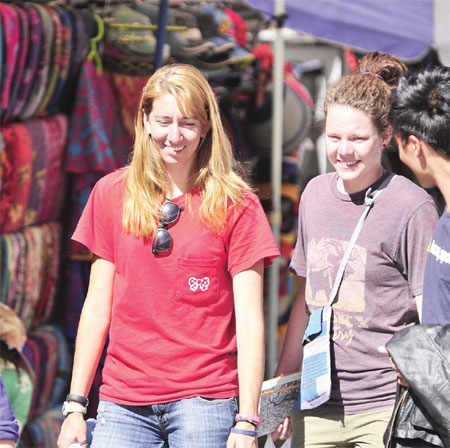 A new category for expatriates' relatives will make applying for visa easier. Provided to China Daily
Overhaul of regulations increases number of entry categories
Relatives of foreign residents in China will soon have more opportunities to visit their loved ones, thanks to new visa rules announced last month.
Under regulations from the Legislative Affairs Office of the State Council, an S visa will be created for family members of professionals from overseas.
Spouses, young children, parents and parents-in-law will all qualify for the visa when the regulations take effect next month, authorities says. S1 visas will allow a stay of more than six months, and S2 visas will be for shorter visits.
No details about S2 visas were announced, but experts says having a new category for expatriates' relatives will make applications more convenient and easier.
Under existing rules, foreigners arriving in China for family reunions can only apply for an L visa.
Wang Huiyao, director-general of the Center for China and Globalization, a non-profit think tank in Beijing, says he believes the new move will help attract and retain international talent.
The Legislative Affairs Office says: "Foreigners holding an L visa could be coming for tourism, family reunions or personal affairs. That visa category doesn't precisely correspond to the purpose of a visit."
The office says it has subdivided visa categories to more accurately reflect the reason for travel, adding that it hopes the regulations can boost tourism and attract more overseas talent.
The number of foreigners entering and leaving China has increased at an average of 10 percent a year since 2000, reaching 54.3 million last year, the Ministry of Public Security says.
By the end of 2011, 4,752 foreigners had been granted permanent residency. Among them, more than 1,700 green card holders are overseas professionals working in China, and the rest are family members who have come to be reunited with them.
Arthur Glauser, 33, a teacher at an international school in Tianjin, has worked in the city for four years. He and his Chinese wife have a child.
Glauser says his parents have never had a chance to visit his home in China and that he has no immediate plans to leave.
"It would be lovely to have my parents spend a little time with their grandson," he says.
Family reunions will be an issue for an increasing number of foreigners in coming years as China woos overseas experts and many foreigners look for opportunities in the country, he says.
Glauser says he believes more people will consider settling in China, but they will all have to deal with living far from their home country.
Liu Guofu, an immigration law professor at Beijing Institute of Technology, says the government has shown its sincerity toward global talent with the new policy.
"People being allowed to apply for S visas include the parents and parents-in-law of foreigners, which is much more generous than the international standard, which limits this to only spouse and children," he says.
"The policy will benefit many foreigners, making their lives much easier and more comfortable ... so that they can work in the country for a longer period."
But the changes will bring challenges in the handling of foreigners, he says, adding: "There are many other ways to attract talent and create a friendly environment for these professionals."
Liu does not think the government needs to go beyond international convention, which only allows for a spouse and children to visit on a family reunion visa. "Public security authorities will face more pressure," he says.
He suggested private agencies that help foreigners with their visa problems should be given clearer parameters and fall under the supervision of the government.
The new regulation allows non-Chinese to use the services of "special service institutes" to help with visa documentation or residential permits.
Liu says more specific rules are needed to define what activities are legal for these agencies. He suggested that the public security and foreign affairs ministries, as well as related government departments, work out a regulation on the management of entry-and-exit agents.
"By giving these agents a legitimate status, it can spare foreigners from needless paperwork and improve the efficiency of public security authorities and foreign affairs authorities."
Many unsanctioned agents already help foreigners, he says, and the best way to manage them is to bring them under government supervision.
Kamil Bojanczyk, a US citizen questioned the actions of a visa agency whose services he recently used.
Two weeks before his F business visa expired, he sought the help of an exit-and-entry agency. After five weeks of searching, e-mailing, calling and talking with agencies, he found a visa agency and was charged 6,756 yuan ($1,100; 830 euros). It was the cheapest he could find, he says. The agency took care of his visa extension in 10 days without requiring him to provide any certificates, he says.
"I don't know if it was legal or illegal. Every foreigner in China has to face the visa issue. Complicated procedures, plus the bad translation of the regulation, left us no choice but to find overpriced agencies taking care of all these."
The lack of specific rights and duties for these agencies results in a massive legal gray area, says Qi Lixin, chairman of the Beijing Entry and Exit Service Association.
"These agencies only process documents," Qi says.
The new regulation is also unclear about what an agency should do when a foreigner provides fake documents, Qi says.
Apart from the S visa, the regulations introduce another three categories.
These are an R visa for foreign experts whose skills are urgently needed in China, an M visa for visitors on trade and business missions, and a Q visa for families of Chinese citizens living abroad and foreigners with permanent residence in China.