Eyeing Broadway, Hollywood sees big profits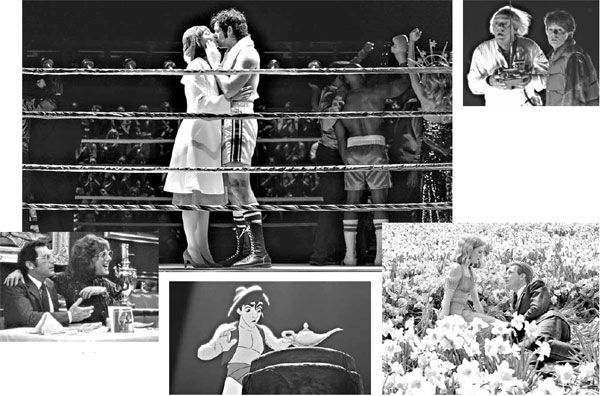 Hollywood is looking for films to adapt to the stage. Clockwise from above, scenes from the movies "Back to the Future," "Big Fish," "Aladdin" and "Tootsie." Left, the musical "Rocky."
LOS ANGELES - To understand why Hollywood is moving into making musicals for Broadway, just look out the office window of Jimmy Horowitz, the president of Universal Pictures.
On the studio lot below is a black-and-green poster for the musical "Wicked." Universal is the majority investor in the show, which has grossed $3 billion since 2003. "Wicked" is on track to become the most profitable venture in Universal's history.
"'Wicked' opened our eyes to the possibility of what can happen when you have a show that becomes a perennial," said Mr. Horowitz, whose studio initially planned to make the 1995 novel "Wicked" into a film - and now expects to make a movie of the musical. "I don't think we'd appreciated what those revenue streams could be."
Now Universal is turning "Animal House" into a musical, and "Back to the Future" may be next. Twentieth Century Fox is eyeing "Mrs. Doubtfire" and "The Devil Wears Prada." Sony is developing "Tootsie."
And this season on Broadway is dominated by screen-to-stage adaptations like "Rocky" and "Big Fish," with the musical "Aladdin" coming this winter, adapted in-house by Disney.
The stage adaptations may be financially rewarding enough to push aside questions of originality. Hollywood executives are trying to solve the puzzle of what it takes for a movie to become a blockbuster musical, a hands-on strategy that represents a significant shift, after decades in which studios passively signed away film rights to theater producers who did most of the work.
"We're looking through our 4,000 movies for the stories with the strongest emotional resonance, for stories that feel like they want to be sung onstage," said Lia Vollack, who oversees theater for Sony.
Most Broadway musicals have been adaptations, although complaints about the movie-turned-musical have been a relatively recent trend. (The latest, by the film critic of The Telegraph in London, appeared last month under the headline "Can We Please Stop Turning Great Films Into Musicals?")
Still, relying on a brand-name movie has never been a guarantee. Roughly 75 percent of shows lose money on Broadway, including many popular movies that were turned into musicals.
"Sometimes the material doesn't translate to stage," said Mark Kaufman, one of the executives overseeing theater ventures at Warner Brothers. "Sometimes audiences complain, 'Why aren't there original musicals?' What's happening now is, Hollywood and Broadway are trying to make better shows together."
Last month, Fox announced a partnership with one of Broadway's most successful producers, Kevin McCollum ("Rent," "Avenue Q," "In the Heights"). Fox executives also tapped Isaac Robert Hurwitz of the New York Musical Theater Festival to advise them on their projects with Mr. McCollum and on theater producing strategy.
Behind the deals is a recognition that most filmmakers don't really know how to make great stage musicals on their own.
Studio executives say they are counting on Broadway veterans to tell them, among other things, which characters can be made to sing - and if so, how that should be done.
"A movie can have so many more scenes than a musical, and so much can be achieved with close-ups and other cinematic devices, so we had to think carefully about which scenes to keep and make theatrical and what other moments could be turned to song," said Dan Jinks, one of the film producers of "Big Fish," who is working on the movie's musical adaptation. "In the movie, there's a scene where time stops and the main character walks through a circus tent - a mesmerizing scene." Composer Andrew Lippa wrote "Time Stops" for the scene, and Mr. Jinks says "it hits you emotionally in a way only musical theater can."
By Hollywood standards, stage musical budgets are attractively small - $5 million on the low end, $20 million on the high, compared with $100 million or more for movies.
Studios are a godsend for musical producers, who otherwise line up dozens of investors.
A test for "Rocky," a $15 million production, is whether audiences will accept an actor other than Sylvester Stallone in its lead role. Even Mr. Stallone, the original star of "Rocky" and one of the musical's producers, acknowledges as much.
"Some movies work perfectly as movies, and you don't want to mess around with them," Mr. Stallone said after the world premiere in Hamburg. "But I think the 'Rocky' musical is really original, not some derivative silly show. We know, and the studio knows, that audiences will have the final word, though."
The New York Times