Apple iPhone slips in rank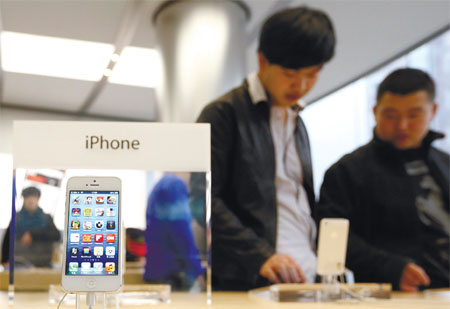 Customers try an Apple Inc iPad as an iPhone 5 is displayed at the company's store in the Wangfujing area in Beijing. Tomohiro Ohsumi / Bloomberg
Apple iPones dropped out of the top five list in China's booming smartphone market, new data show.
During the second quarter, South Korea's Samsung retained its lead among Chinese smartphone buyers with a 17.6 percent market share. Lenovo took the second spot with a 12.3 percent market share followed in order by Yulong, ZTE and Huawei, according to Canalys research firm.
Apple fell to seventh place with a market share of 4.8 percent when Xiaomi, one of China's low-end smartphone makers, overtook them with a 5 percent share.
"There are several factors in play," said Canalys analyst Nicole Peng. "Firstly, the Q2 is traditionally a low season for high-end smartphones compared with Q1, which is an important gifting season with festival sales. Secondly, the iPhone 5 has been selling for three quarters, which makes it a relatively old product compared to Samsung's flagship Galaxy S4."
Peng said the most important cause of Apple's market share decline is that China's smartphone market in Q2 is still driven by the growth of TD-SCDMA segment (a 3G mobile telecommunications standard), especially in the low-end.
"Apple's current portfolio is not able to benefit from this high growth segment, where other domestic vendors such as Lenovo and Yulong are capitalizing on it," she explained.
Apple saw its ranking fall in China at a time when the country's smartphone market is growing at a rapid pace. Total April-June smartphone shipments in China, the world's largest smartphone market, grew 108 percent year-on-year to 88.1 million, constituting 33 percent of all worldwide shipments.
Collectively, the five Chinese vendors - Lenovo, Yulong, Huawei, ZTE and Xiaomi -shipped the most devices worldwide, accounting for 20 percent of the total market, up from less than 15 percent a year ago, even though few people outside China have heard of companies like Yulong or Xiaomi.
"China is a huge and highly diversified market. It's critical for Apple to re-evaluate its product portfolio for this market," Peng said, adding that a more affordable iPhone with refreshed design would help close the gap with its major competitors and help Apple reach broader consumer segments.
Apple's revenue in the Greater China Region was $4.64 billion in its latest quarter, a 43 percent decline from the second quarter and a 14 percent decline from a year earlier. The sharp drop in revenue in China shows serious challenges the California-based technology giant faces.
One move Apple is rumored to be planning is the release of a cheaper iPhone in the coming months to attract more customers in markets such as China.
Even if this rumor can be trusted, whether or not a budget iPhone will succeed in China remains up in the air, as competition in the low-end smartphone industry in the country is getting fiercer. Xiaomi, for instance, is set to release on Aug 12 the Hongmi phone for just $130, featuring a quad-core 1.5GHz processor and a 4.7-inch display.
"The trick for Apple will be to do this without undermining the brand image," said Andy Tsay of the Leavey School of Business at Santa Clara University.
"It might compete in a lower price range, but it will be positioned as the premium product in its range," Tsay said.
Analyst Peng believes the flagship iPhone models will continue to be the revenue driver in the China market and a cheaper iPhone model will help boost volume in the short term.
"However, for Apple to continue to be appealing to Chinese consumers, it must maintain its premium brand positioning and offer inspiring products in the high-end. Otherwise a lower-end model will fail to attract value-conscious Chinese consumers any time soon," she said.
yuwei12@chinadailyusa.com